It's lights, camera, and a whole different type of 'Action' for former award-winning television and film executive turned industry-leading sports gaming operator, Aaron Avruskin. Having conceptually created and produced over two dozen titles for broadcasters such as Netflix and Amazon Prime, featuring stars such as Dwayne 'The Rock' Johnson, Michael Rapaport and Gary Busey, Avruskin gambled a budding Hollywood-North, heavyweight-esque resume on finding success in a new field – the lucrative world of sports gaming. 
So far, the bet has paid off in spades, with Avruskin overseeing PlayLine.com – the company he co-founded, which uniquely mixes simplified skill-gaming with media and entertainment. In just two short years, the company has garnered a registered user base of over 300,000 players – making it the fastest group in the history of the highly competitive fantasy sports gaming space to reach that plateau. This success lead to partnerships with major sports leagues, media conglomerates such as the Times of India (which invested US$8 million in the company), an acquisition of one of social media's top sporting communities with 4M followers (@NBAmemes), to swimming with sharks such as Mark Cuban – with the out-spoken owner of the Dallas Mavericks having acquired an interest in particular PlayLine assets, leading to the launch of a 50/50 joint-venture-partnership between Avruskin's PlayLine and the famed American entrepreneur. It is also reported that Mark Cuban is financing this new venture, titled Leverage Game Media, with an undisclosed sum of funding.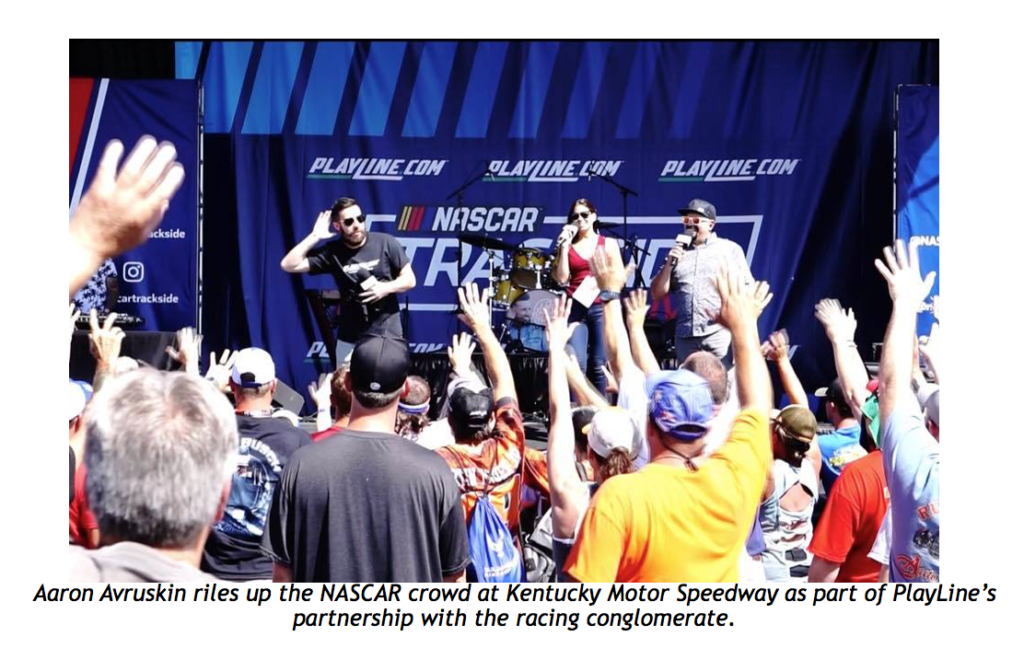 With a business that touches multiple verticals across media, the crown jewel of the PlayLine portfolio is its suite of skill-based, real-money gaming products – most notably, the revolutionary, patent-pending, first-of-its-kind, PlayLine Sports Lottery offering. The concept is simple – the PlayLine Sports Lottery replaces the randomly selected lottery ball with the numerical stats of athletes – the more correct predictions you make, the more you win, up to and including the site's US$1M top prize offered multiple times daily. The game-changing product was the brainchild of Avruskin and fellow Canadian media entrepreneur Jason Falovitch. At inception, Avruskin and Falovitch brought on partners, and fellow co-founders, former UFC Champion Michael Bisping and 2x NBA All-Star Roy Hibbert – the two notable athletes also became the companies first outside investors, and remain heavily involved in the management of the operation. 
While lottery products typify good fortune, it was hard work that lead Avruskin to overseeing the world's fastest growing sports gaming platform. Prior to starting PlayLine, Avruskin made magic on the small and silver screens, having produced/executive produced two seasons and twenty episodes of the mixed martial arts docu-series, Fight Xchange, which was filmed across three continents, and broadcast internationally. The series followed young fighters as they traveled to live, train and fight in a foreign country, and featured some of the biggest names in the sport – including Brazilian legends Anderson Silva and Jose Aldo, among others. The series become a premier launching pad for young talented fighters on the brink of superstardom, including UFC title challenger Claudia Gadelha, now the 7th-ranked female fighter on the planet, who made her international fighting debut on the series. The second season, filmed in Japan, commanded the biggest financial commitment for a documentary series in the history of Canada's largest and most widely available pay-tv broadcaster, Superchannel. 
In between seasons of Canada's foremost mixed martial arts series, Avruskin acted as producer on The Sheik, which told the harrowing true story of former professional wrestler, turned social media personality extraordinaire, the Iron Sheik. The film featured interviews with a who's who of professional wrestling royalty (Hulk Hogan, Bret Hart and Mick Foley, to name a few), in addition to such Hollywood mainstays as Jack Black and Seth Green. The film was widely lauded by critics and spent multiple weeks atop the iTunes chart following its theatrical release.
Following completion of principal photography on Fight Xchange Season 2, the upstart digital television network, URshow.tv, commenced intense recruiting efforts to secure the services of Avruskin – making him Director of Programming, and tzar of all-things production for the celebrity-focused, original content conglomerate. "I was given complete creative freedom, access to some of the world's biggest stars, and unlimited financial backing – a trifecta of appeal for any young producer looking to bring their ideas to life", said Avruskin. Over the next 9-months, the blank canvas of URshow.tv become a cornucopia of color, boasting over a dozen original series – ranging from documentary to scripted comedy and featuring such Hollywood stalwarts as Michael Rapaport, Gary Busey and Chris McDonald (best known for playing Shooter McGavin in Happy Gilmore), among others – with all programming produced and/or written and directed by Avruskin. 
https://www.youtube.com/watch?v=1VorYkCcNhg
The $10,000,000 Hole in One Golf Challenge, starring Chris MacDonald, in a promotional segment written, produced and directed by Avruskin.
The networks flagship programming was live events, which included the incredibly ambitious and world-record breaking, $10,000,000 Hole in One Golf Challenge, live-streamed globally from Las Vegas. The event featured eighteen celebrities and pro golfers, and fifty-four early adopters of the service, who won their way to Vegas to shoot for the life-changing prize, in an event made possible by over 150 cast and crew members – all helmed by and/or reporting directly to Avruskin. The Toronto-based firms second foray into live event production was a Pay-Per-View fight night event from Pheonix, Arizona, which featured combat sports legends Chael Sonnen, Michael Bisping, Rampage Jackson, Kurt Angle, Rey Mysterio, legendary commentator Jim Ross, and pound-for-pound king, boxer Roy Jones Jr – who fought a fan chosen by the viewing audience in the evenings main event bout. "I got into production to tell stories, and to make real the seemingly impossible, 'wouldn't it be cool if…' ideas bantered about by friends in basements, backyards and front porches everywhere – it just happens that I achieved my goals quicker than expected, and when that happened, my first instinct was to pursue new challenges. Comfort is the enemy of progress and innovation", opined Avruskin on his time at URshow. 
"Aaron is the definition of someone that knows their business, anticipates questions, and answers and explains things in an extremely compelling way that anyone can understand".
Seth Young, CIO PointsBet
For Avruskin, the art of storytelling isn't something that's entirely lost as part of this transition, if anything, it's the audience that's changed – shifting from the homes of millions to the high stakes boardrooms inhabited by financial managers and investors in centers like Toronto, New York and LA. "He's smooth, and not in any of the bad ways. He's just really good. Aaron is the definition of someone that knows their business, anticipates questions, and answers and explains things in an extremely compelling way that anyone can understand. Aaron has very clearly mastered the craft of storytelling in the boardroom. He's exactly the guy you want on your team", said Seth Young, a prominent executive in the sports betting space, and Chief Innovation Officer at PointsBet (PBH.AX).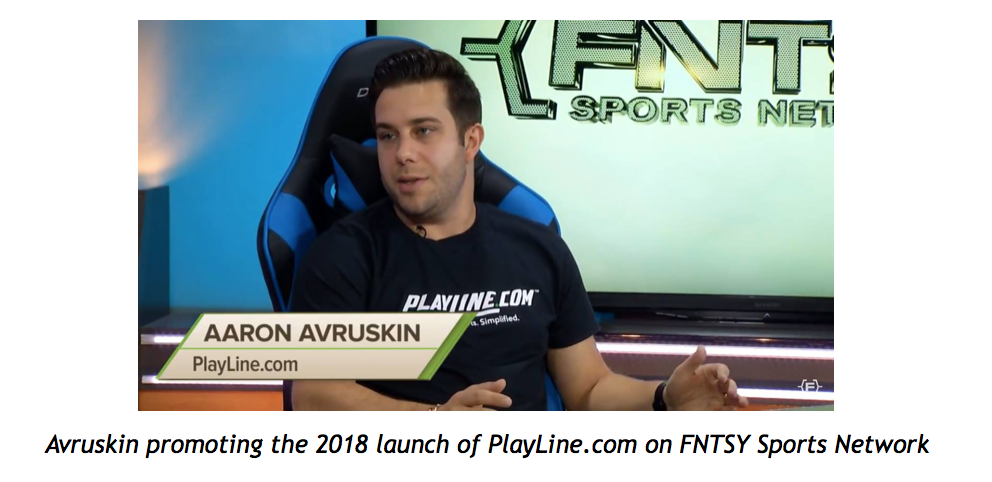 While platforms with similar user-bases, reach, and performance metrics have recently been acquired for north of US$50 million, Avruskin sees increased opportunity with the expansion of regulated gaming markets in the US and Canada, but isn't focused solely on the money. Said Avruskin, "We got into this first and foremost as sports fans, and users of sports betting products. To create a product that builds a lasting legacy, and to re-invent the manner in which lottery games are thought of and consumed by millennials is the ultimate goal – all of the other accolades, financial or otherwise, are simply a by-product of achieving that objective, and we're very thankful to all those that have played a part – big or small – in our journey". When asked what advice Avruskin might lend to young entrepreneurs seeking to follow a similar path, Avruskin concluded by imparting apropos counsel one might expect from a firmly entrenched gaming executive – "always bet on yourself".