Many years after his first exhibition in Barcelona, Miquel Aparici is currently an international sculptor of the first kind.
We have had the great chance to interview Miquel in his workshop to get a better glimpse of his creative process.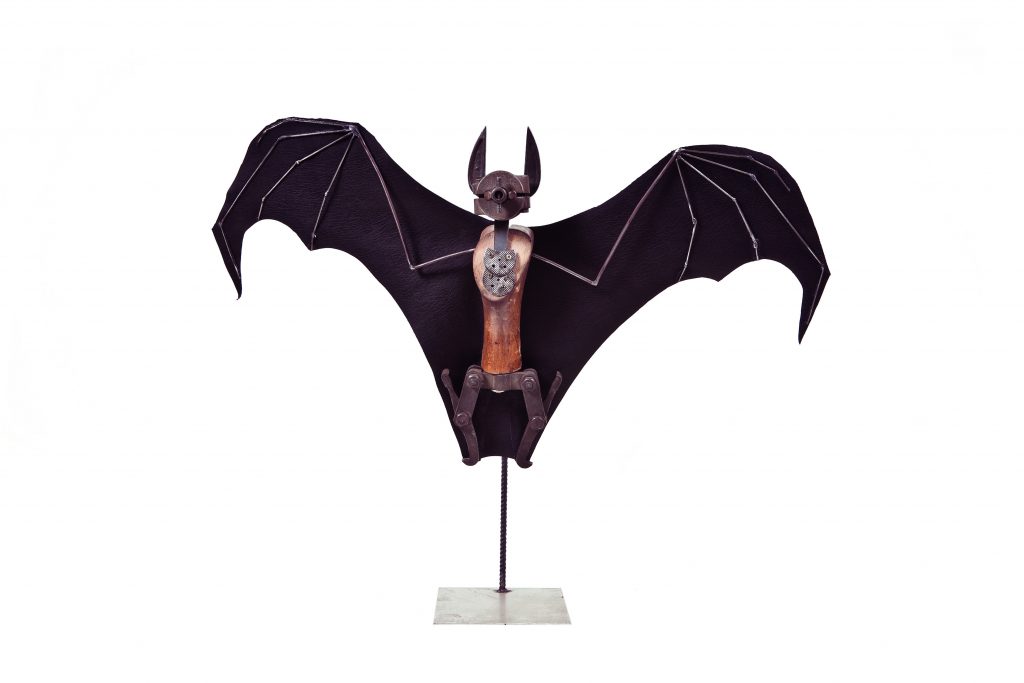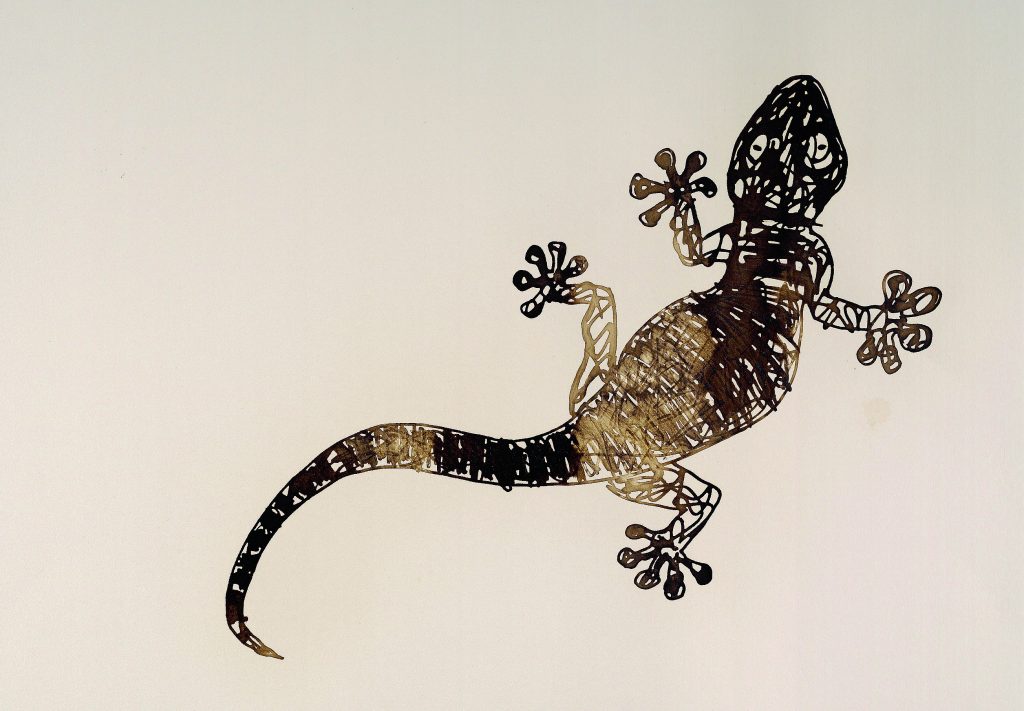 • Why did you become an art sculptor in the first place?

I was working as a graphic designer, which I still do, and one day I travelled to Formentera island, where lot of lizards live, to meet a friend who is an illustrator. While we were having a coffee, I started drawing a lizard with my coffee spoon (as per above image), using the coffee liquid, adding some sugar to give it some extra texture, colour variation, and depth to my drawing, and he loved it.

I also realized that drawing with coffee gave me pleasure, and opened my soul. So I started drawing using coffee as a watercolour in a frenzy. I was drawing anything I set eyes on, and I started showing my drawings to some paintors in town.

In only three months I was already exhibiting my paintings in an art gallery. And there was press all over the place, TV, radio, specialized magazines, so I was very happy. I visited New York only six months after my first exhibition, and I started showing my work to the art galleries in Soho, until I could exhibit there, too.

At the same time, Barnadas, a renowned art gallery, also wanted to exhibit my work in Barcelona, while I started using wire to give a 3D form to my creations.

I started welding different materials, and unused objects, or antiques, like industrial moulds, clock pieces, agricultural tools, and crafts leftovers, to show the hidden beauty in many things around us that often go unnoticed. I give them a spotlight in order to give visibility to the beauty of what are considered ugly animals at first – those which people cannot see as beautiful. And I realised that by doing so, my two most loved passions, biology and arqueology, were coming together in a swift manner.

I was doing my 3D sculptures by adding wire to wood, recycled materials of all kinds, shapes, and textures, using waste antiques and disused objects as my main source of inspiration. Nowadays, when I am looking for waste around the place, I already know which animal I will create with it, so I focus some more on the materials I will select.

My inspiration comes basically from Nature, but great artists like Chema Madoz, Joan Brossa, Torres García, etc. help me get inspired, too.


• How do you give life and soul to your scultpures?

Wire is very flexible, and it allows me to round shapes, and bend forms into expressions. I treat my objects with respect while giving shape to my animals. I only adjust each piece to the right shape.


• You need a lot of material, so how do you scavenge for objects?

I love finding objects on the go, and combine different pieces that apparently have nothing in common. I have fun with it, like a child with a puzzle. But it is very important that the shape of each item attracts my attention in the first place.


• And how did the pandemic affect your work?

It affected me a lot, in all areas of my life. But I am a positive person, and I believe that bad days are only there to take you to good days.

Sometimes, I have the feeling that my life is like a wave, I get empty just to get filled again. And my work never comes out right if I am not in the right mood. It will always go wrong for as long as I try, whenever I just don´t feel like doing it. I can only create when I am happy, and enjoying playing with my tools.

I don´t think it´s true that artistic inspiration arrives when you are sad. I really do need to be happy to get inspired.
I like working in open concept spaces, because besides storing all the material I buy, most of my sculptures are real size animals (like a real size jiraffe, an elefant, a gorilla, a lion, a tigre, etc). My workshop is full of artwork, but even though it may look like a chaos, I find my own order in it. And I always need to be on my own to concentrate, and create.

• Could you please explain why Picasso´s bull sculpture is so meaninglful to you?

As a child, I didn´t have a clear idea what to become when I grew old, but at the age of ten, I sau Picasso´s bull hanging from the wall of Picasso´s museum, and I flipped it. That bull is exactly what art means to me, it moves me, and I love it. So, it gave me a real path to pursue.

And after having success with all my coffee drawings, I already knew that I would work on art for the rest of my days, because it makes me happy.

• Which of your projects do you consider the best?

My first exhibition was very special to me, because besides press, and the National Geographic, there was also a young fifteen year old child who came to the expo only for his father to buy one of my pieces.

It felt like it was easy to sell. And that empowered me to believe that I could make a living out of my art.

• So, which art piece would you never sell?

I didn´t want to sell anything at first, but then when sales start being normal, you get used to let go. Like a father to a son. And I can always create new projects, which makes the creative process very exciting.

However, I am very proud of my rhyno, which is like a tank. Durero made one out of a story told by an African man, and I thought this was an amazing story to get my hands on.

I am also very proud of my goat, which was an order I received from a customer because he liked Picasso´s goat, and I did my own version of it in bronze.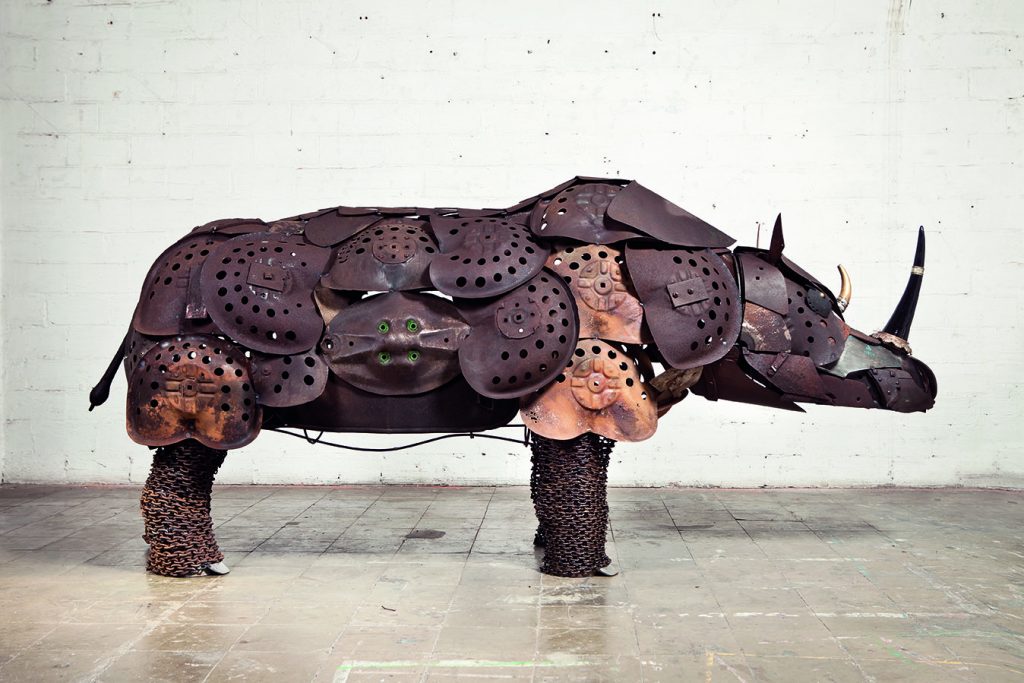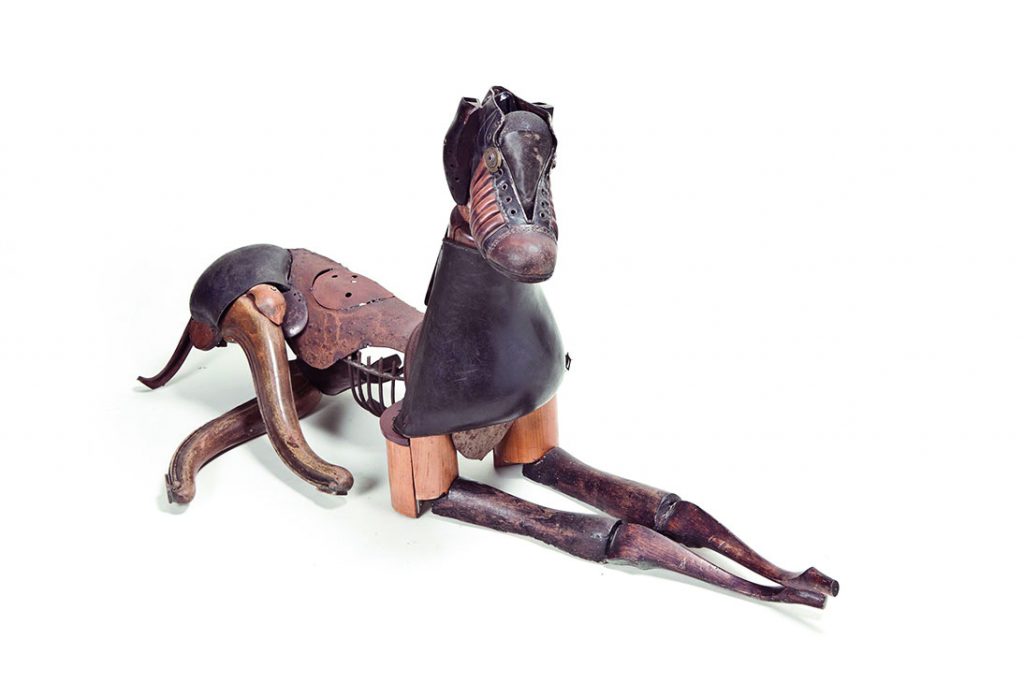 You can read more about Miquel on his website: https://miquelaparici.com/
For more information about culture, please read further on my article: https://washingtonmorning.com/2022/04/14/why-is-culture-soooooo-important/
Neus Flores