We are delighted to inform you that a press conference in Monaco, Le Meridien Beach Plaza Hotel took place. In the world of investment and sustainable development this conference was one of the most anticipated events of this summer – the 6thCC Forum "Investment in Sustainable Development" which will be held in partnership with International Investors' Congress in Cote-d-Azur on 6th-8th of July 2021 back to back with Cannes film festival. 
Duringthe three-hourconference, with an intermissionfor caviar and champagne, participants discussed the aims, objectives and conditions of participation in the upcoming event. 
CC Forum's mission and ethos is convening major global impact investors, policy makers and figures of international renown for a brainstorming session on how to face some of the unprecedented issues mankind and the planet are facing today. 
The 4th edition of CC Forum Monaco 2020 received the High Patronage and was held in the presence of HSH Prince Albert II of Monaco. Prior to that CC Forum London 2019 received a written word of greeting on behalf of HM Queen Elizabeth II. Early April 2021 saw the 5th in-person edition of CC Forum Middle East in Dubai under the patronage of HH Sheikh Awadh Majrin, the nephew of the Ruler of Dubai HH Sheikh Mohammed bin Rashid Al Maktoum. 
Previous editions of Cc Forum featured such prominent international participants as Prof Nouriel Roubini, Ban Ki Moon, HSH Prince Albert II of Monaco, Stanley Johnson, Julian Lennon, HH Sheikha Noora Al Khalifa of the Kingdom of Bahrain, Maestro Placido Domingo, Maxim Vengerov, Evgeny Kissin and many others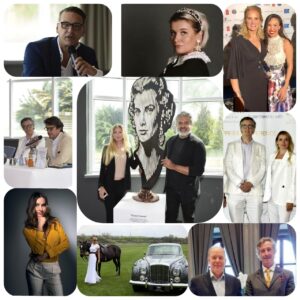 Along with the main organizers of CC FORUM & International Investment Congress Anna Stukkert and Max Studennikoff, the speakers were:
Jean Bernard 
He is the president and founder of Bentley Club Monaco, the philanthropist, also in collaboration with UNESCO, collector, president and founder of the Road Safety Association among professional and international drivers.
Luiz Costa Macambira
The owner, publisher and executive editor of the magazine Forbes Monaco, for more than 18 years together with Christian Moore, founded the company Jorgensen, which trades raw materials from Monaco.
Christian Moore
Co-founder, owner and Editor in Forbes Monaco.
The event was covered by more than 150 world media, including:
London Daily Post
Bo Herald
Entertainment Paper
Finance Daily Herald
Stankevicius MGM
The American Reporter
The New York Journal
Washington morning
The London Journal
Co organizers:
Gulshat Uzenbaeva is founder and CEO of LUXPRO S.A.R.L., co-organizer of International Investment Congress Monaco 2021. 
Olga Daniele is founder and CEO of 365 ART, co-organizer of International Investment Congress Monaco 2021.
General partners:
Cote-d-Azur Neutrino Energy Group. The  company's revolutionary green technology is based on producing electricity out of neutrino particles which are present in the air. It has every potential of replacing in due course other sources of energy including solar panels and windmills as it does not depend of the weather. This has already led some of the world's biggest governments to partner up with Neutrino Energy Group. Neutrino- voltaic energy is a breakthrough technology of the Sustainable future.
Partners: 
Catering company Chef l'Azur
Coffee company Renero Espresso Napoletono. 
Cavier house Chef Oto. 
Winery Weingut Meine Freiheit 
Les Petits Desserts (liquors) and champagne Compte de Monaco from Monte Carlo Gourmet  
Main events of CC FORUM & International Investment Congress Monaco 2021 will take place on the 6 – 8 July 2021
06.07.2021
PRE-PARTY — 270 persons.
VIP RECEPTION COCKTAILS
Press Conference
Official opening
07.07.2021
BUSINESS FORUM — 400 persons.
Gala Event + Awards — 250 persons.
08.07.2021
BUSINESS FORUM — 400 persons.
VIP Yacht-party — 50 persons
On 9 of July 2021, Bentley picnic will be held at the end of the official events, organise by Jean Bernard, the president and founder of Bentley Club Monaco.
VIP participants and main partners of CC FORUM & Congress – only 100 privileged persons will be present.
The 50 Bentley cars will meet participants in the most famous location in Monaco, near the Hotel de Paris. Further will go to Cannes on the picturesque embankment of the French Riviera accompanied by music, champagne and girls in cabriolets.  After the column will follow the Promenade de la Croisette and for a few moments will plunge into the atmosphere of the Cannes Film Festival, which will take place on these days. 
Among the honoured guests of CC Forum and International Investment Congress will be:
Vikram & Jadev Shroff from India, they are billionaire investors with capital 5 billion USD, philanthropists, owners and executives of UPL Ltd. The Scale of the agrochemical company is 130 countries of the world and 12 400 registered drugs
Mishal Kanoo from UAE is a billionaire investor with capital 6 billion USD and business magnate. 
One of the 100 most influential Arabs in 2017, the richest people in 2009, the 15 richest Arabs in the world and the 100 influential. The chairman of the Kanoo Group with capital 6 billion USD, philanthropist
The destination will be the villa with a pool of champagne from Anna Wohlthat and Winery from Rheingau "Weingut Meine Freiheit", liquors Les Petits Desserts and Champagne Compte de Monaco from Monte Carlo Gourmet. 
The Polo party and the fireworks will finish  the night. 
CC Forum Monaco will be followed by CC Forum London on 27-29 October 2021 ahead of the historic COP 26th in Glasgow. 
The accreditation is open
+41 79 770 32 24 Olga Daniele 
+357 96 30 61 73 Irina Mylnikova
+7 705 104 72 49 Fatima Susuzova