Zilliqa is launching a metaverse called Metapolis in 2022 with early announcements during today, April 2, in private Metapolis metaverse event in Miami.
Latest rumour for April 2 Metapolis launch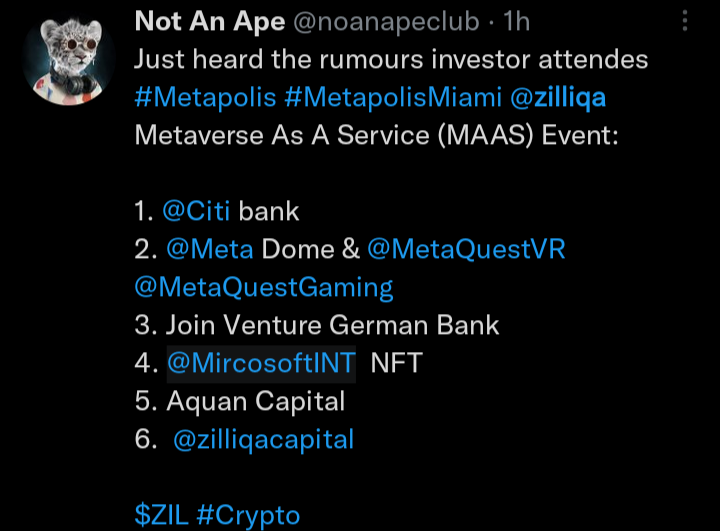 Competition and market achievements
Today in the crypto market space there is Decentraland (MANA), TheSandBox (SAND) and Axie Infinity (AXIE), who are the main metaverse market players with NFT interaction and marketplaces, holding early adopters of the industry. Additionally there are numerous new startup companies aiming and doing the same.
What's the difference between Metapolis and the remaining market?
See it from this perspective: MANA, SAND and AXIE have already usable and commercially available products for worldwide audience which make them early leaders of the metaverse. However, think about this: Zilliqa, has not even launched the Metaverse and yet its marketcap is over $2B. Consider that this is actually not a pumped value rather than realistic market expectation.
Zilliqa will have 1 year to develop the metaverse world starting already in Q2 with early adoption of large companies integrating into their system. As soon as 3D metaworld is ready, users will start flooding in.
Keep note, that Decentraland, is pretty empty even though the space is bought up. Why? Because maybe the market is still too early for the metaverse, but its just the right time for development. Have you recently logged into the Decentraland and walked inside? 99% of the map is empty, surely there are houses and environments but user engagement is extremely low compared to the hype and twitter tweets.
Most of the companies that have bought lands inside the Decentraland are in building phase, yes they do arrange events from time to time but its not yet a 247 active MMORPG environment that one would completely switch into from the real world.
This time, in 2022 is a perfect time to enter the space, not too early, not too late, and Zilliqa is doing it just right. We will most likely not see any of the metaverses with 1M communities that we see on online MMORPG games. And yes, isn't fully functioning and healthy metaverse something like an MMORPG game environment with players around you, anytime, anywhere.
Zilliqa is doing something more realistic though. Think about this, real life is not an MMORPG, and not a party, something that Decentraland and especially TheSandBox is kind of pushing for. Zilliqa's Metapolis is like a planet with countries and cities and jobs and people living, a connection between real life and internet life just like Sandra H. head of Zilliqa Metaverse and NFT mentioned in earlier interview session few days ago.
Technically, Metapolis is very competitive to the gaming environment and the party scene of Decentraland and TheSandBox, yet it has its own unique features.
Metapolis is LAYER 1
Remember this, and never forget. Metapolis is built on Zilliqa's layer 1 blockchain which enables multi chain interactions. Imagine you have an NFT from Ethereum or Solana, yet you can never interact directly with each other, yet in Metapolis you can because layer 1 allows multi chain network interactions.
Not many companies have made it happen and layer 1 is something extremely difficult to make, so no wonder Zilliqa took 2 years time in development just for layer 1 while being low in all their marketing activities.
Investment and stock price – don't listen to FUD
Investors are surely investing in the news and rumours about Zilliqa's Metapolis, and yet there are long and short term investors. Remember that Zilliqa is backed by institutional investors and those investors are not investing in tomorrow price or next month price; they are investing in the industry and market change. Note that Zilliqa has been active for several years now and now its time for them to move into commercial side as they have already done.
Social media, twitter and discord channels are full of FUD. People trying to trade 4H charts for 3 days to make profit of it which actually make no sense and the FUD is not really necessary here.
Think about this. Zilliqa is launching the project and yes its big news but its okay to avoid the FUD because this global market domination will start happening only after Q3 of 2022 when Metapolis will be go towards operational side from commercial perspective. There are many companies with $0,025.00 trying to do something but in the end it comes down to what have you actually done, and Zilliqa has shown that it's job is to create the new metaverse for people and companies, and once that is done, then we should be looking at new Apple of the digital world.
Zilliqa price prediction April-June-November 2022
April is expected to hit $0.3-0.48 just before 14th of April based on technical analysis, after which we should be expecting a correction and then another wave by June which would reach $0.5-0.68 leading a correction during august and September, from which will be another leg up in November going for new ATH between $0.8-1.15.
Zilliqa's average price for 2023 is estimated to be at least $1.56 based on current technical analysis and competitor success rate analysis. If Zilliqa would be able to pull even 30% of success accomplishments like its competition, the price should easily reach $1.25-1.56 before Q3 2023.
Zilliqa price prediction during Metapolis launch
The stock price of Zilliqa could extend and retest $0.23-0.24 levels during the event today in Miami for Metapolis launch, and it is possible for the price to touch ATH because it was anticipated that this date would break ATH and even though the short sellers might go against it, the whales are able still to push it if there is worth enough news for them to jump on.