The Dot Property Vietnam Awards 2022 Announcement Event took place successfully on July 28 at The Reverie Saigon.
The event had the presence of more than 350 guests who were senior leaders representing businesses, representatives of award-winning real estate projects, the Organizing Committee, Advisory Board of the Award, Experts, Sponsors, Media partners, Charity partners and many journalists.
Continue to write the story of Sustainable Development with the Vietnamese real estate community
In 2022, Dot Property Vietnam Awards is proud to write a new page for the story "Sustainable development" with the message:"Sustainable development: Awaking a promising journey of the Vietnam real estate"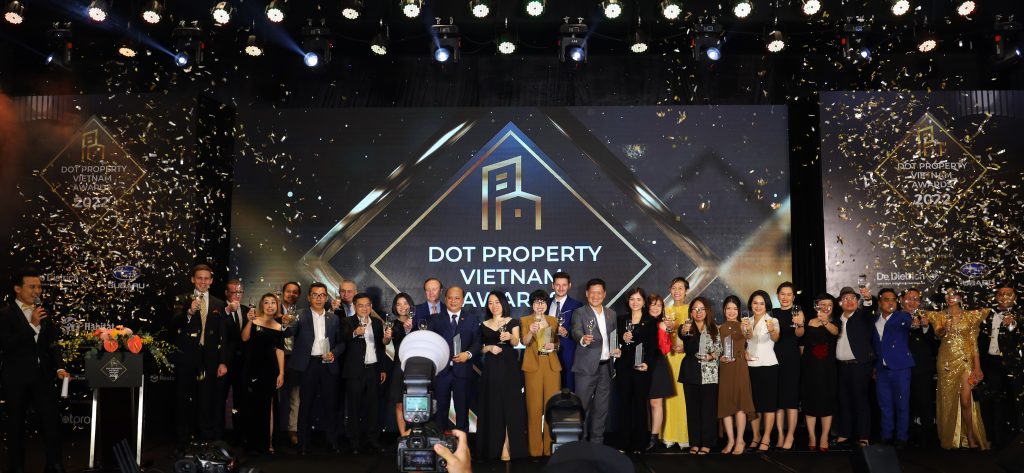 Dot Property Vietnam Awards 2022 has identified, honored businesses and projects that embody the spirit of overcoming adversity, recovering, and breaking through a crisis through inner strength while focusing on the human and conscious contribution to social activities and the fight against the Covid-19 pandemic.
In addition to the general criteria for each award category, the winners must also be businesses and projects that qualify for 4 major criterias of "Sustainable development" including: (1) Green environment, (2) Economic Development in regional and local areas, (3) Cultural and social development and (4) Human values.
The decals of the most value at Dot Property Vietnam Awards 2022 were on Hung Thinh Land (Developer of The Year Vietnam Award), Novaland Group (Best Sustainable Developer Award), Sunshine Sky City (Vietnam People's Choice Award for Project of the Year),…
Besides, the Vietnam Real Estate Persons of The Year 2022 title was awarded to Mr. Vu Cuong Quyet – General Director of Dat Xanh Mien Bac (representing real estate service companies) and Mr. Le Viet Hai – Chairman of Hoa Binh Construction Group (representing the supporting field for the real estate ecosystem).
The complete list of candidates can be found here.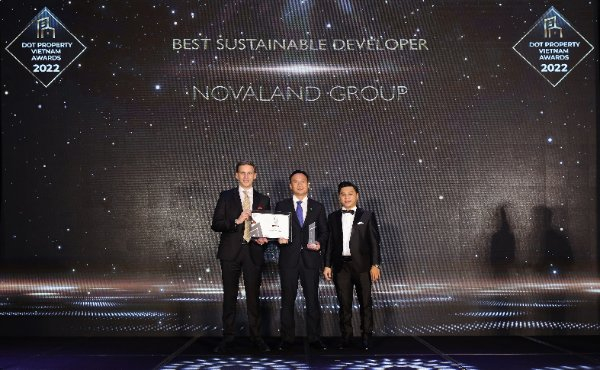 The first International Conference on Sustainable Development in Vietnam
After The Announcement of the Dot Property Vietnam Awards 2022, there will be The First International conference on Sustainable Development in Vietnam, bringing together leading experts from many countries where sustainable development is critical to solving problems such as climate change, urbanization, traffic, population growth, pollution, etc in order to protect human safety.
This November conference will be an intersection of cultures, opinions and perspectives to jointly analyze case studies of model real estate businesses in the trend of sustainable development from the standpoint of investors, project developers, distribution companies, contractors, consulting and architectural design companies,… All will provide an overview of sustainable development, as well as solutions and directions for real estate businesses to think about when deciding their company's development orientation.
We hope to see you at The First International Conference on Sustainable Development in Vietnam with inspiring stories!


ABOUT DOT PROPERTY INTERNATIONAL REAL ESTATE AWARD
Founded by the Dot Property Group – is the real estate brand belong to the powerful global corporation LIFULL CONNECT (headquartered in Spain, operating in 63 countries), which currently owns 10 of the fastest growing real estate portals in Southeast Asia and the prestigious publication of Dot Property magazine, Dot Property Awards is one of the major and prestigious international real estate awards in domestic as well as internationally!

Sincerely thanks for the companion and cooperation of:

SPONSORS
DEBORAH.,JSC – De Dietrich luxury kitchen appliance, French royal heritage since 1684.
Subaru –  the Top luxury car brand from Japan

COMMUNICATIONS SUPPORT
Toan canh Bat dong san – The leading real estate information forum in Vietnam
InvestTV – Specialized TV channel in Vietnam on investment, economy and socio-economic issues
WGH – WLIN Global Holdings was established with the goal of connecting women leaders around the world to Creating a prosperous network of Women Leaders
RealCom – The leading community for people working in the field of business and real estate project development

COMPANY UNIT IN IMPLEMENTATION
Habitat for Humanity Vietnam – Non-governmental organization, Non-profit organization, operating on an international scale with the goal of supporting resettlement.

ADVISORY BOARD OF THE AWARD
Mr John Gardner –  Founder and Principal Partner of Optimum Hospitality 
Mr. Eric Baumgartnerer – Managing Director – Dôme Hospitality
Mr. Lucas Senault – Strategic Business Development & Marketing Manager – Bureau Veritas Vietnam
Mr. Gwen – Design director for Gwendesign Vietnam