Dr. Nguyen Thu Huong is known as Miss Sports, Miss World runner-up, Journalist, Doctor of Education, and a successful businesswoman. Aside from those noble titles, she is admired and cherished by Vietnamese and international entrepreneurs for successfully creating communities for businessmen and women leaders worldwide.
Dr. Nguyen Thu Huong's communities have been an effective connection, assisting entrepreneurs worldwide to exchange cultures and connect effectively, just as the ambition she originally set out to bring Vietnam reaches out to the world and brings the world to Vietnam.
Creating Women Leaders International Network – WLIN Global
WLIN Global Network was founded by Dr. Nguyen Thu Huong in 2013. With the mission of becoming a borderless business connection network and creating an environment where women can develop.
"While attending the Global Summit of Women in Malaysia in 2013, I realized that if women leaders only meet in an event to connect, what they learn will not have an environment to practice, people will not continue to connect with each other, and it will be difficult to bring real effects to the participants." Dr. Nguyen Thu Huong shared the motivation that made her determined to establish WLIN Global.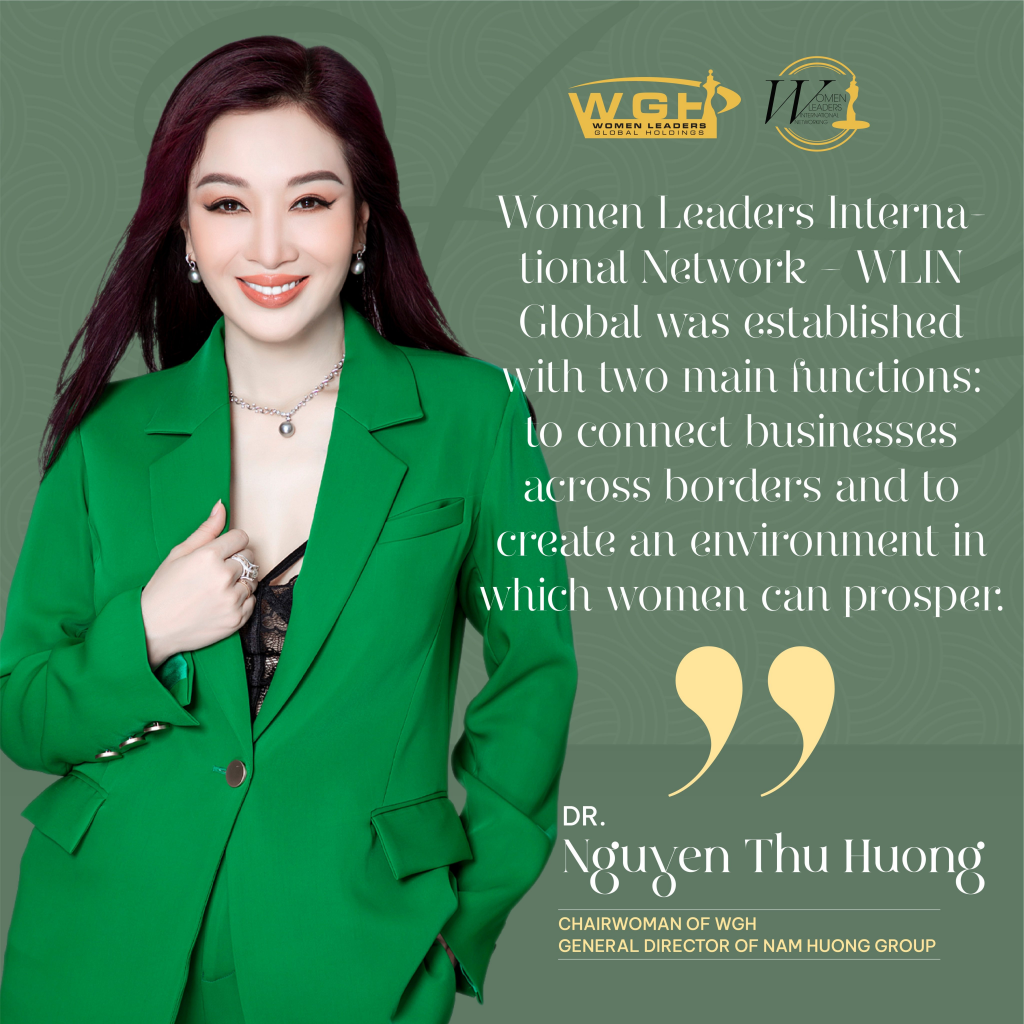 She stated that women will always have a need to trade and exchange, and if it is possible to create a community for thousands of women leaders who are trading a wide range of products and services – That network will be a very large and extremely potential market. With strong growth over the past 10 years, combined with the values brought to members all over the world, has demonstrated that the Network is progressing in the right direction.
Events to honor entrepreneurs and women leaders
Dr. Nguyen Thu Huong has hosted numerous events and awards such as Top 100 Business Style, Power of Women, Top 50 Asian Pacific Women Leaders… to honor entrepreneurs and women leaders since the inception of the WLIN Global network. Dr. Nguyen Thu Huong shared that the culture of WLIN Global is dedication and honor. Dedication should be acknowledged. In addition to financial value, we all require organizational recognition.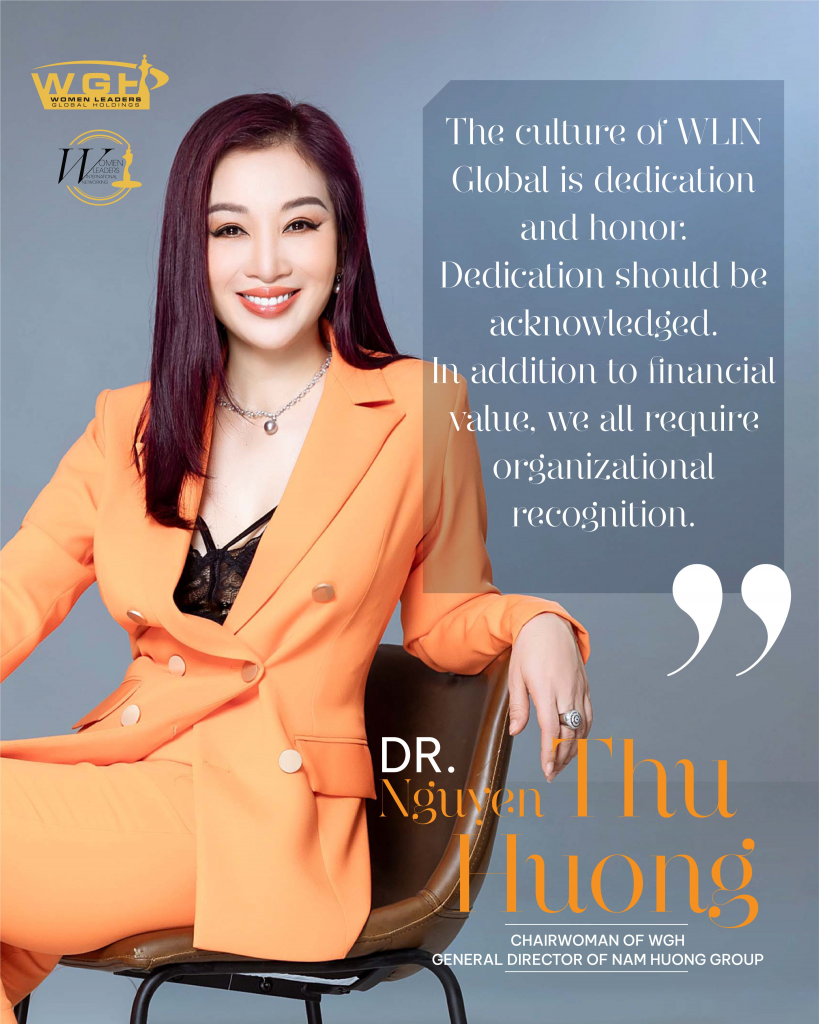 She pointed out the significance of honorary awards: "The business community is critical to economic development because it employs millions of people. Vietnam has a population of 100 million people but only 800,000 businesses, with a rate of less than 1%. How can we encourage capable people to commit and start a business if we don't acknowledge and honor them? The acceptance of the community and society brings entrepreneurs positive energy."
"I hope that, with my small addition along with the Government's orientation that Vietnam needs to reach 1.5 million businesses by 2025, the activities of the awards will serve as an inspiration to become more and more successful. Many new businesses will be established." Dr. Nguyen Thu Huong thereby also expressed.
WLIN Global Holdings is rebranding and preparing for an IPO
In 2022, WLIN will begin to transform into WLIN Global Holdings Joint Stock Company (WGH), aiming for an IPO in 2026. Dr. Nguyen Thu Huong's goal with WGH is to create a network of Angel investors for women-owned projects while also creating an ecosystem that serves women leaders globally. WGH hopes to raise the movement of women starting businesses in a methodical and professional manner, attracting the attention of investors, through pioneering activities.
"The IPO strategy that WGH follows has a specific financial roadmap and KPIs to achieve. Its purpose is to generate positive pressure so that the entire system grows and everyone clearly sees the destination to which they should run. Unlike in the past, my destination is only known to me, and I have the freedom to do or stop whenever I want. But now everyone knows about it and is rooting for me to win. I'll have to put in a lot of effort, and I won't be able to cross the finish line by myself. Our investors, co-founders, and partners will share the results. When successfully IPO, the achievement is not only for my own but also for all Investors, Co-founders, and Partners." Dr. Nguyen Thu Huong elaborated on the capital mechanism model that WGH employs.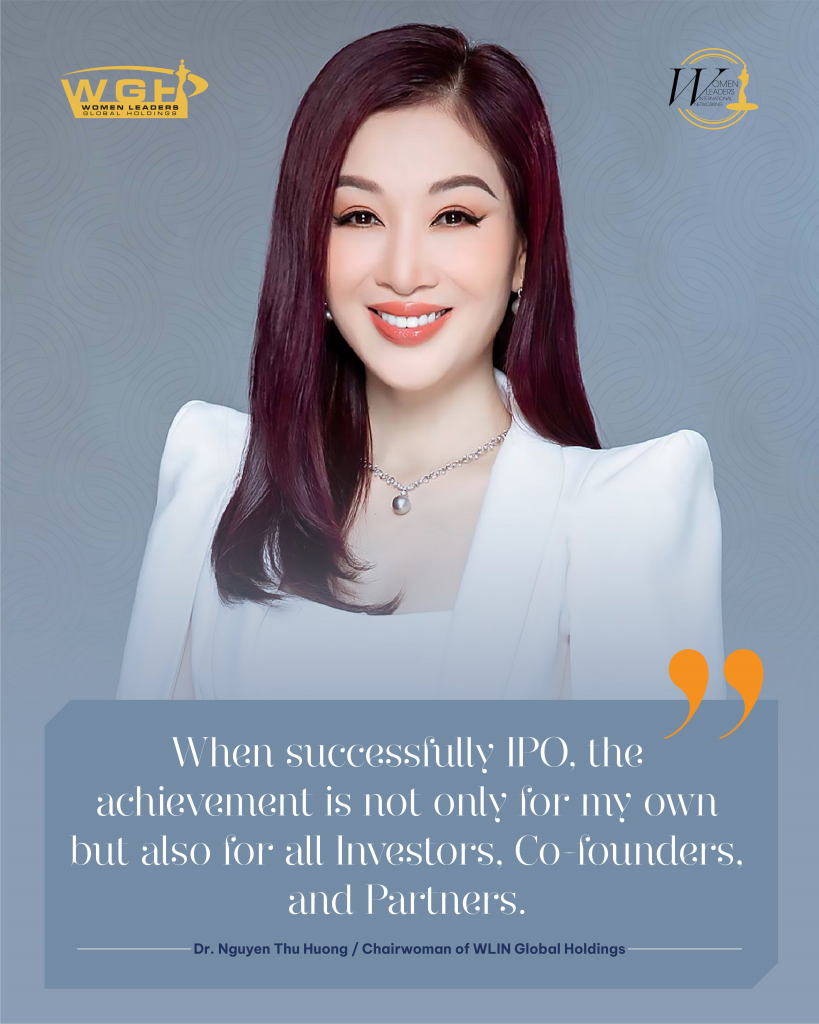 Besides developing WLIN Partner, Member and attracting investors, the mission of creating an ecosystem serving female leaders is also built by WGH with 5 units in charge of 5 main areas: (1) WLIN Global – Business networking, (2) WMedia Agency – Multimedia strategy consulting, (3) WIC – Financial investment advice and access to capital, (4) WTech – consulting technology solutions and digital transformation for businesses, and (5) WAcademy – Training center for entrepreneurs and the next generation.
The launching of the Top 100 International Outstanding Vietnamese Women Leaders 2022 Award
WGH's IPO roadmap acknowledges 2022 to be a seed incubation period. Many good seeds have been planted in the fertile soil of the WLIN Global network. Corresponding to those positive results from the IPO perspective, the WLIN Global network is also constantly increasing in both quality and quantity.
Recognizing the significant contributions of prestigious female leaders to WLIN Global's growth, the network is preparing to launch the Top 100 International Outstanding Vietnamese Women Leaders 2022 Award.  The award will honor quintessential Vietnamese women leaders from all over the world. "They are quintessential examples that assist in the spread of the image of women leaders in the new era!" – Dr. Nguyen Thu Huong said.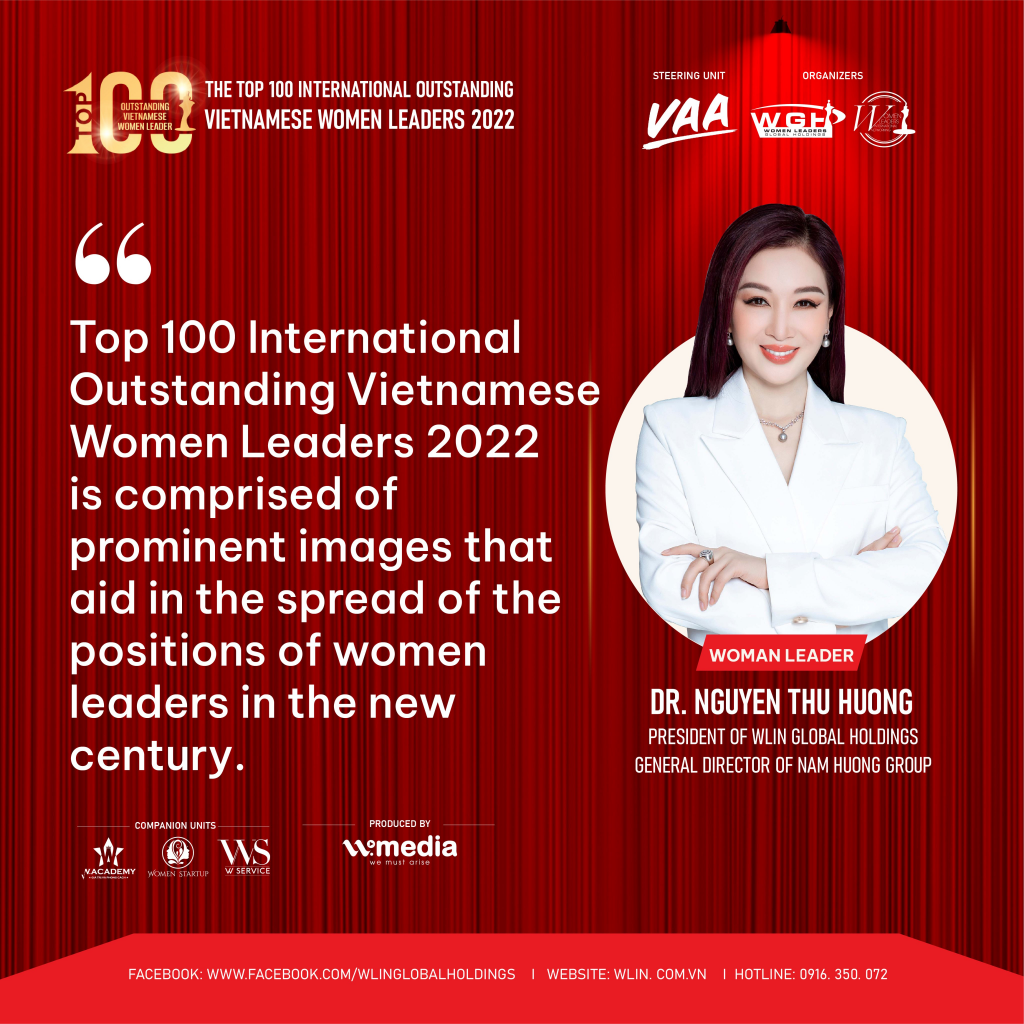 Ms. Thu Huong also elaborated on the event's magnitude: "The event will bring together 1000 leaders from various fields. There will also be a Women's Fair exhibition with 100 booths, introducing featured brands from the WLIN Global ecosystem and associated partners. We also host 6 forums in various fields, with approximately 60 national and international speakers attending to share knowledge and experience."
Within the framework of the program, there is also the Top 100 The Best Brands of Women Leaders Choice 2022 Award to honor representative businesses and brands domestic and international. This will be an ideal platform for brands to network and exchange.
Through this unique occasion, WGH also expects to successfully launch the social network invested by WGH – WLIN Global, as well as the pitch of WLIN Invest Capital (WIC), which specializes in training and advising women-owned businesses on how to evaluate and connect with investors.
The journey to find the Top 100 International Outstanding Vietnamese Women Leaders 2022 is widespread all over the world. All entrepreneurs are invited to participate and nominate worthy candidates and potential partners to accompany the award.
In addition to providing women leaders with the opportunity to collaborate and establish a top-notbrand, the program – on an International level – is also an opportunity for businesses worldwide to promote their brands, services, products, and cross-border trade connections.
Cordially invite entrepreneur to register for nominate, accompany, and collaborate of Top 100 International Outstanding Vietnamese Women Leaders 2022 HERE
Date: October 28th, 2022
At White Palace Event and Exhibition Center, 108 Pham Van Dong, Hiep Binh Chanh Ward, Thu Duc City, HCMC
TOP 100 INTERNATIONAL OUTSTANDING VIETNAMESE WOMEN LEADERS 2022
Organizers: WLIN Global Holdings, WLIN Global
Produced by: WMedia Agency
Companion Units: WAcademy, Women Startup, WService
Media Sponsors: Women Leader Magazine, Business Style Magazine, Phu nu hien dai, Doanh nhan & Doi song, The gioi van hoa, The gioi nguoi noi tieng, Nhip cau dau tu, Goldsun Media, HiTV, Invest TV, Washington Morning
Contact Information:
– Hotline: 0938 201 299
– Facebook: WLIN GLOBAL HOLDINGS
– Website: https://www.wlin.com.vn
– Email: info@wlin.com.vn