The award of the top 100 International Outstanding Women Leaders 2022 and the Launching Ceremony of the Top 100 Business Style Awards 2022-2023 have drawn the attention of business communities in all nations. Prof. Dr. Estelle Dinh, an international friend of WLIN Global, has highlighted the significance of the program.
Prof. Dr. Estelle Dinh, a Professor at Monaco International University and Glion Institute of Higher Education in Switzerland, has a long list of accomplishments. Her diverse abilities and life experiences have enabled her to hold top leadership roles in restaurants, hotels, finance, marketing, life, etc. She is also a professor in charge of high-level and doctoral courses in relevant subjects throughout Europe, Asia, and the Middle East.
After the event of Top 100 International Outstanding Women Leaders 2022, the award honors excellent female leaders in business, prominent in social activities, Prof. Estelle Dinh took the time to share and demonstrate a deep interest in the program.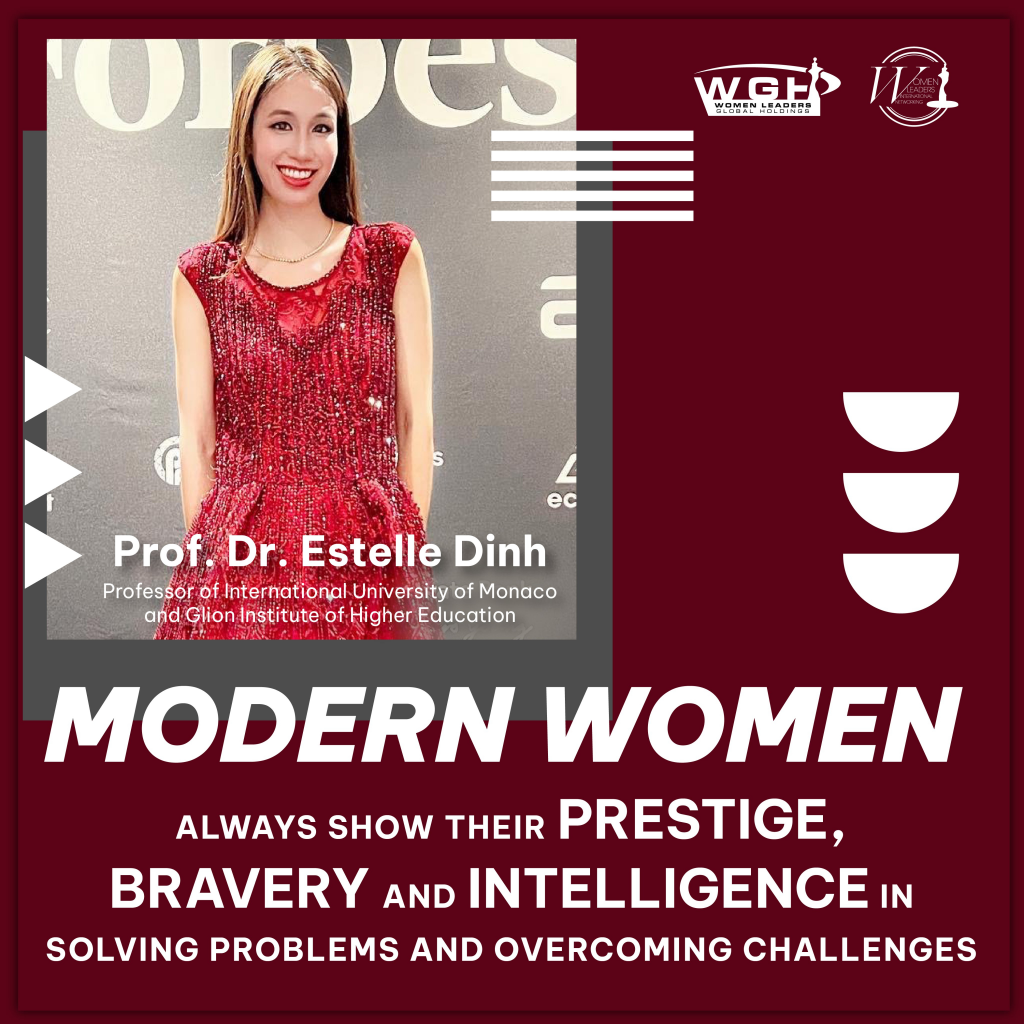 Hello, Dr Estelle Dinh; as a successful woman who has traveled to nearly 100 countries worldwide, you must have obtained multiple opportunities and experiences. Based on your perspective, what do you think about Oriental (Eastern) women, especially Vietnamese women?
Growing up in a multicultural environment in a business-oriented family with extensive background and heritage has opened up many opportunities for me to study and work in many different cultures. Therefore, I have always been interested in the journey, experiencing what I call "Beyond the traditional bucket list" I realized one thing that Eastern women always carry with them warm hearts and extraordinary talents. Because these wonderful ideals are so tightly linked to norms and traditions, it might be difficult for women's skills to be publicly appreciated. Vietnamese women, recognized for their eight golden words "Heroic – Unconquerable – Faithful – Courageous," always demonstrate their hard work, devotion to family, and business skills. Vietnamese women are significant in jobs that emphasize family and community values.
Having worked in many fields, can you share your views on the advantages and challenges women are encountering today?
Business trips and travel across countries have shown me the bravery and majesty of women. In many parts of the world, women play significant national roles as presidents, prime ministers, etc. However, those same "shifts" show me that there are still a few places in the world where women's rights are restricted in important fields such as education, technology, etc.
The world is witnessing more and more outstanding women leaders. From your experience, would you like to give some advice for future women leaders to achieve success and sustainable development?
The growing number of women in prominent positions in government and industry indicates that their capacity to work and lead is not inferior to that of males. To retain this optimism, future female leaders must consistently practice the required abilities, such as how to offer guidance swiftly and efficiently in difficult situations.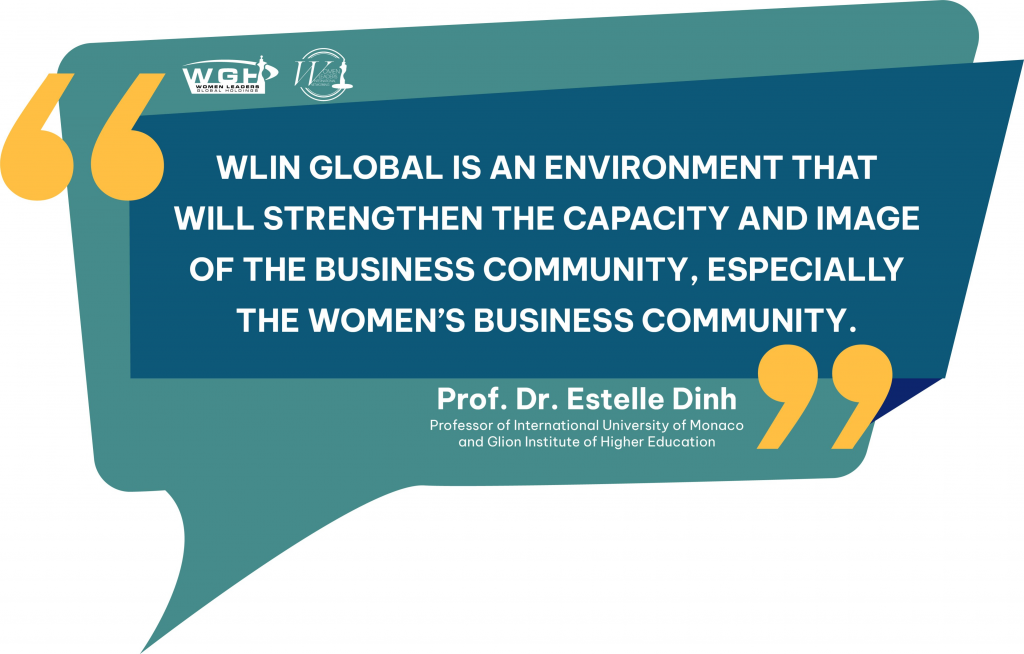 What community activities have you participated in before? What made you interested in the WLIN Global network?
I am a founding member of various exclusive Private Clubs, including the Gustavia Yacht Club in St-Barts. In addition, I was appointed as a Member of the International Committees of Prestigious Royal Balls under the Patronages of Royal Families.
Thanks to the WLIN global network organization, who invited me as a special guest for the last reception of WLIN in Ho Chi Minh City and during my trip to Vietnam, I had a chance to understand the WLIN Global network organization. Through its rich ideas, approaches and perspectives, I think your organization will be for the future of outstanding Vietnamese Women's society in Vietnam.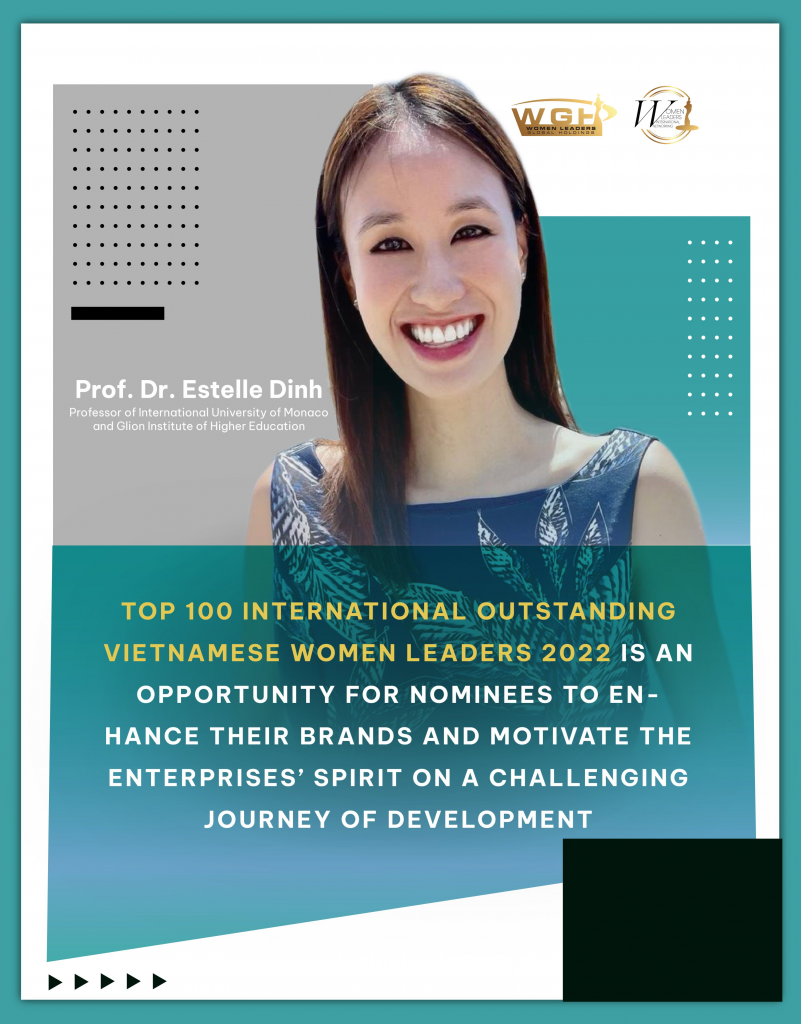 Held October 28, 2022, The Top 100 International Outstanding Vietnamese Women Leaders Award 2022 is one of the major awards of WLIN Global. What do you think about the Award's values to the candidates?
The awards recognize the candidate's achievements, whether they have been in business for years or months. In addition, the Award value can boost candidates' reputations, setting them "apart from the crowd" and giving them a morale boost by highlighting their achievements in their challenging career path.

Personally, I believe the program achieves its primary purpose and value. I anticipate that the Top 100 International Outstanding Vietnamese Women Leaders 2022 will pave the road for future generations of Vietnamese female leaders to shine with their abilities and knowledge.
Sincerely thank you, Prof. Dr. Estelle Dinh!