With the enthusiasm of youth, firmness, confidence, independence, enterprising, Mr. Nhu Hoang Minh, a multi-talented, experienced and mature guy, decided to become a part of The Next Generation International Network to materialize his ideals for the community.
Hoang Minh, would you mind sharing some details about you and your family?
I am currently a 3rd year student majoring in Business Administration at the University of Economics, Vietnam National University, Hanoi, the successor of Entrepreneur Adam Hai – CEO of Wland Global, Chairman of Hotkids Vietnam and Speaker Lai Thi Hai Ly – Founder of Hotkids Vietnam, inspirational speaker, expert on early childhood education in Vietnam.
I'm a person who enjoys social activities, likes to do business and inspires young people in Vietnam. In addition, I have experience as an MC in many TV programs, teen and university programs.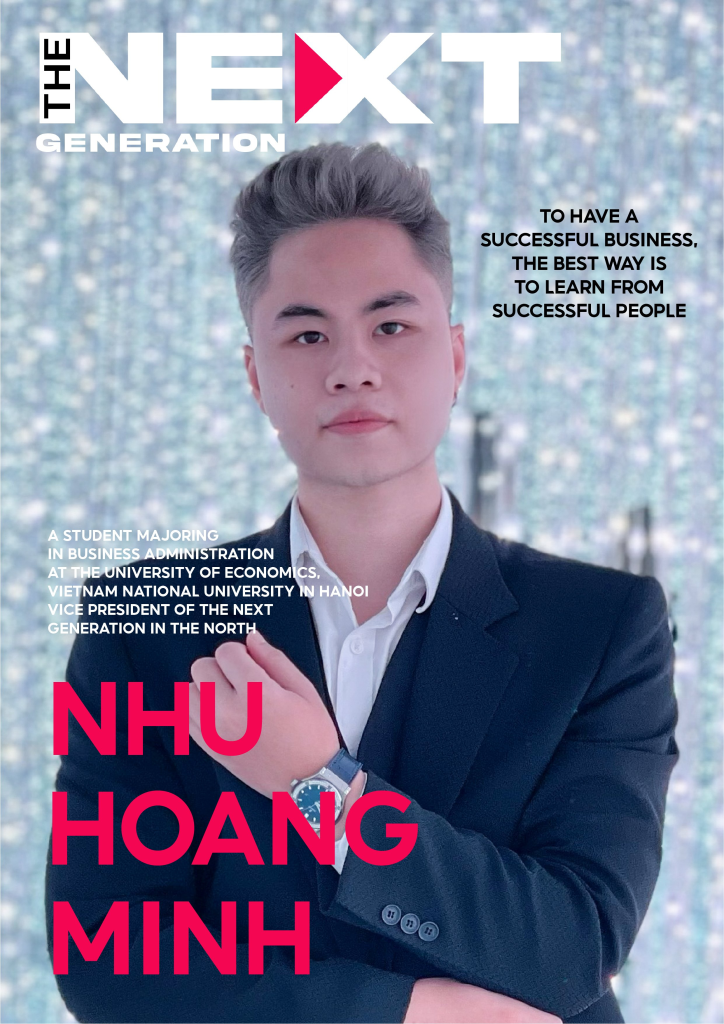 What achievements have you accomplished on your own educational path?
In 2012, I won 4 national gold medals as a dancesport grandmaster. Currently, I am also an MC of VTC6 television network, University of Economics, Hanoi National University and an inspirational speaker of Hotkids Vietnam Group, talk shows for students and teenagers.
What is your future self-development orientation?
I have 2 orientations to develop myself in the future. The first one is to become a successful businessman like my parents and the senior entrepreneurs who are friends of theirs. I'm a person who has a passion for business and I suppose that: "If you want to have a successful business, the best way is to follow successful people". That is also a way for me to confirm that passion in the future.
Secondly, I want to be an inspirational speaker. For myself, living a valuable life is when we inspire and spread good values ​​to others. I want to become a valuable person and devote myself to my passion and hobby.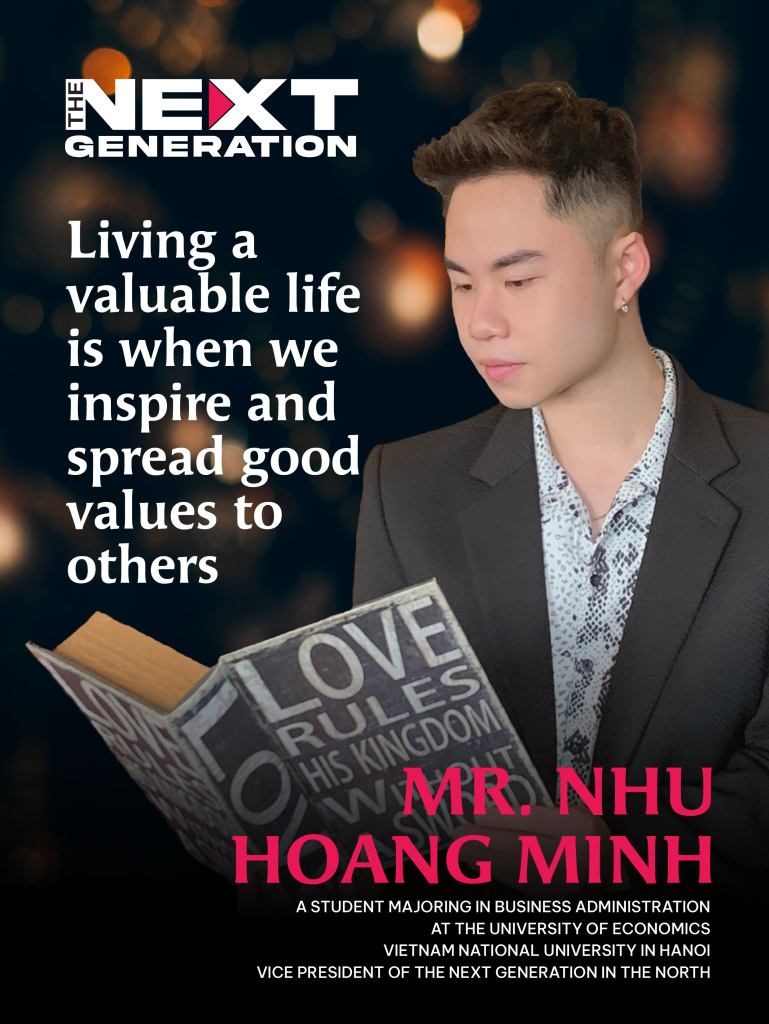 What is your favorite philosophy / saying that you want to work towards in your life?
I'm fond of the saying "If you want to go fast, go alone, if you want to go far, go together" or the saying of Thomas Edison: "The biggest failure of man is that he gives up before he realizes how close he was to success". For me, behind every successful job, there must be clear goals and plans. Determination is the most important factor when we start to do something. If our 100% effort is not enough, then put in our 150% – 200% effort and combine the strength of teamwork and relationships until we can accomplish the goals we have set for ourselves.". I always want to direct myself to become a brave and resilient person so that life's difficulties will not have a chance to knock me down. At the same time, each experience, each setback will be a lesson for me to be more resilient and stronger.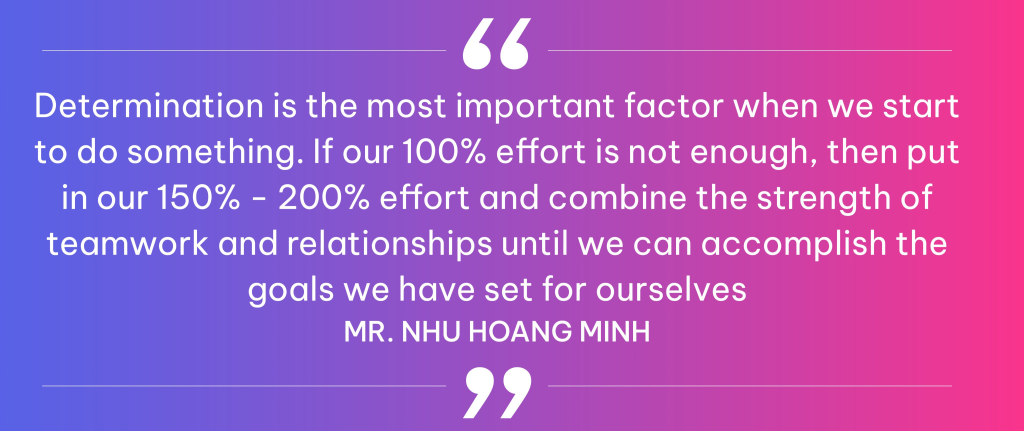 Why did you decide to become a member of The Next Generation network? What position are you currently in the network?
Currently, I'm holding the position of Vice President of The Next Generation Club in the Northern. The reason I decided to become a member of The Next Generation is because this is a club that I have always been looking for. For me, The Next Generation network is a perfect environment for young people to learn and develop leadership skills, teamwork and learn from previous generations of entrepreneurs. At the same time, successful entrepreneurs themselves, with the role of mentors, will be the ideal role models to impart experience, instruct and guide the successor generation like me. The difference between The Next Generation network compared to many other clubs lies in its selectivity. This is a club only for those who are passionate enough and seriously want to develop themselves.
What values ​​and meanings do you hope The Next Generation network will bring to you?
Joining The Next Generation network, I believe that I will learn a lot of leadership experiences from teachers who are businessmen and women who have achieved certain success in life. I believe that with my passion and under the guidance of quality teachers, my path to success will be shortened as a member of this network.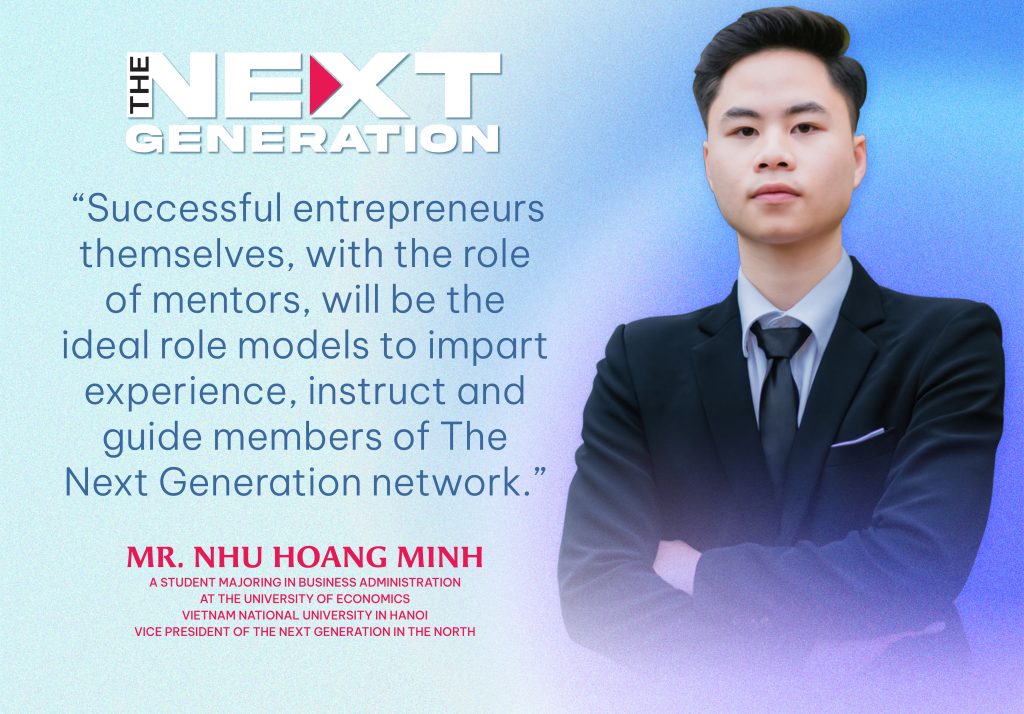 Can you share the direction and strategy that you and the executive team will implement to develop the network?
In order to accomplish my own desires and passions, the first thing that I, my teammates and the Executive Board will do is sit down and discuss together to agree on specific goals and orientations in the first phase and subsequent phases in the coming years. The Next Gen executive board will set up topics and plans for group activities and group programs in 2023 to call for young people aged 15 to 21 to participate. The members of The Next Generation will be the ones who learn, practice, and inspire other young people at the same time through online and offline programs and content in Vietnam.
Hoang Minh, please send a few words to the members of the Executive Board and those who are planning to join the network.
For the members of the Executive Board, we are the pioneers for the next generation, a generation with a solid foundation, so let's learn, strive, and build a great community together so that the members of the core team of The Next Generation network will build it into a strong network, following in the footsteps of the previous generation.
Với các bạn có dự định tham gia vào mạng lưới, tìm thấy một môi trường có cùng lý tưởng thật không dễ dàng gì, nếu các bạn có cùng mục tiêu và định hướng phát triển bản thân, học hỏi từ bạn bè đồng trang lứa và thế hệ doanh nhân đi trước, hãy gia vào mạng lưới The Next Generation.
For those of you who plan to join the network, it is not easy to find an environment with the same ideals. If you have the same goals and orientation to develop yourself, learn from your peers and the previous generation of entrepreneurs, join The Next Generation network.
Thank you for your sharings, Hoang Minh.