Hoang Thanh Loan, an entrepreneur, is currently the Deputy General Director of Ocean Advertising And Trading Fair Joint Stock Company (Ocean Group). She is also a member of the Vietnam Advertising Association's Executive Committee. Hoang Thanh Loan has newly joined WLIN Global Holdings as a Partner.
Consistent effort leads to accomplishment
Established in 2014, Ocean Advertising And Trading Fair Joint Stock Company (Ocean Group), after being known as Viet My Trade Advertising Fair Joint Stock Company – Vinatafs from 2002. This is a unit that offers outdoor advertising, event management, media, and other sorts of advertising. Ocean Group has many years of expertise in Vietnam, taking the lead in developing and consulting advertising strategy, providing customers with optimal and appropriate advertising services, and giving brands wings to spread widely, rapidly reaching consumers and the community.
With relentless efforts to think along the principles of the company's motto, "Taking customer satisfaction as the core value," Deputy General Director Hoang Thanh Loan has consistently advanced her career in media and events. She has persistently learned and developed in order to cultivate the power of voice, sophistication, and attraction in communication and behavior to encourage staff and successfully connect the network of potential consumers. As a result, she was honored to earn the McPro3 certificate, as well as other marketing communication certificates, in order to become an expert in the communication field, which she is pursuing and to advance her leadership role in Ocean Group. The position of Deputy General Director is a testament to Entrepreneur Hoang Thanh Loan's efforts throughout the years.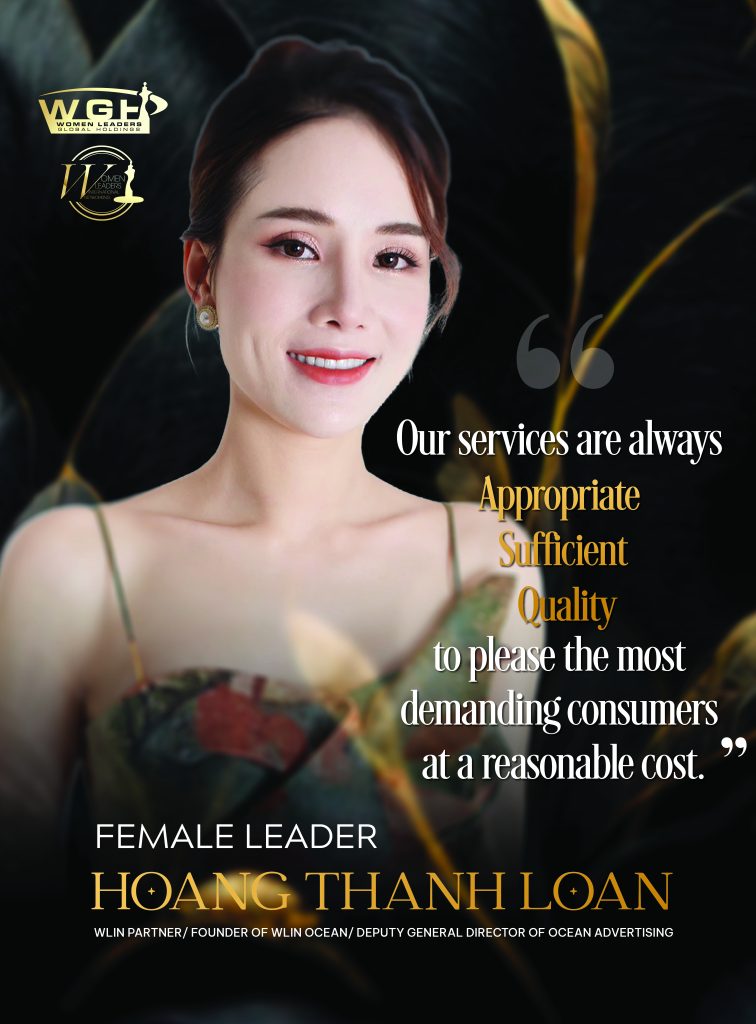 Female Leader Hoang Thanh Loan and Ocean Group have developed a loyal customer system, tightly connected with suppliers, quality, and professional construction, with a dedication to providing Appropriate – Sufficient – Quality services, fulfilling the most demanding consumers at a reasonable cost. Not only that, but Ocean Group establishes a team of professionals who are accountable, honest, experienced, and dedicated. As a result, Ocean's products are always of excellent quality, attractively designed, innovative, and always accomplished on time. Ocean Group has been and continues to be the first choice of numerous businesses and brands, including LG, Samsung, Senko, Pho Xinh, Pvi, Tiki, Eco Pharma, Beer Tiger, Nippon, Oishi, and others.
With the above-mentioned accomplishments, Deputy General Director Hoang Thanh Loan greatly contributed to Ocean Group when it received the Certificate of Merit from the Vietnam Advertising Association for being an outstanding unit in the field of digital transformation.
WLIN's fire – the driving force for developments
In addition to exceptional initiatives in the field of media and events, Entrepreneur Hoang Thanh Loan has long met and engaged with Dr. Nguyen Thu Huong, Chairman of the Women Leaders International Network – WLIN Global. As a result, she accompanied WLIN, put her whole belief in it, and joined arms to assist the network's growth.
"WLIN connects me with a network of successful entrepreneurs and outstanding female leaders. WLIN connects me with a network of successful entrepreneurs and outstanding female leaders. As a result, WLIN has been a tremendous force for me and the company in expanding relationships with potential partners and clients, thereby expanding the business network and diversifying advertising offerings to domestic and foreign enterprises in Vietnam." –Deputy General Director Hoang Thanh Loan expressed her pride about WLIN – "At WLIN, I am motivated by the energy of successful people, which drives me to expand my business and take better care of myself and my family."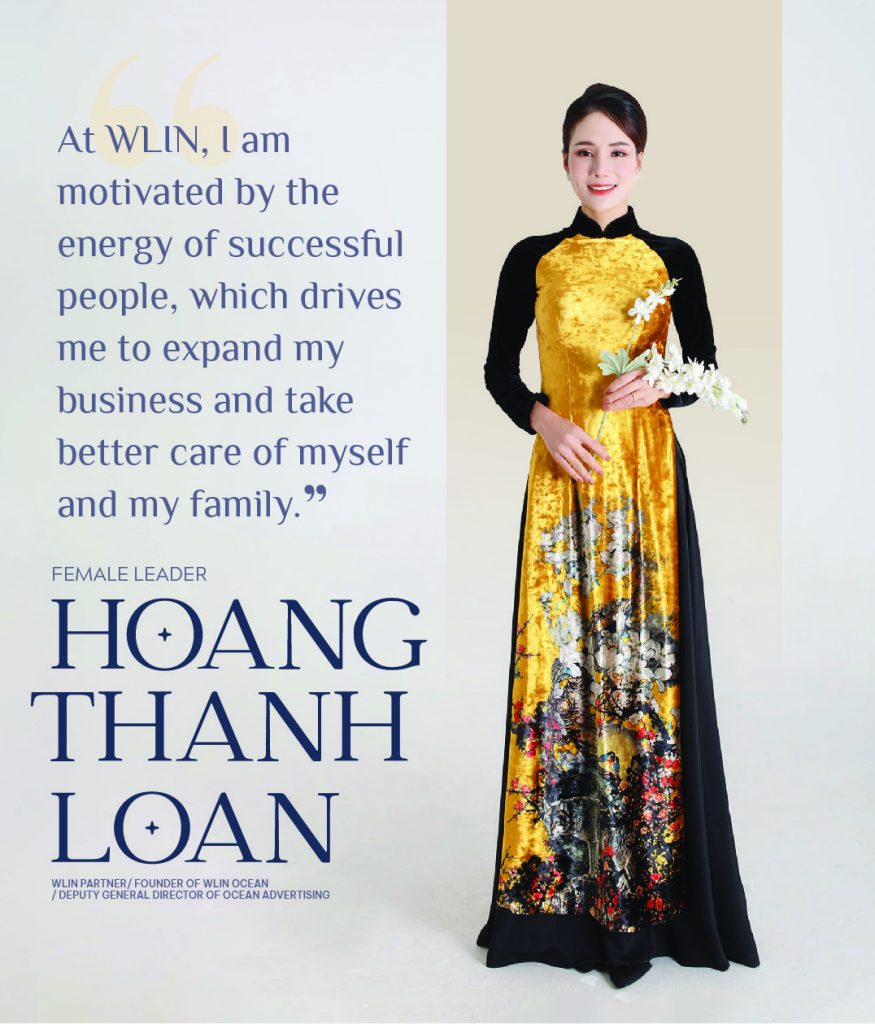 Become a Partner and establish WLIN Ocean
Influenced by the positive principles of the Women Leaders Network, Hoang Thanh Loan cherished becoming a WLIN Partner, establishing a WLIN Club uniting experts in the field of communication, advertising, and event organizing for products and services focused on health and beauty care for women and family.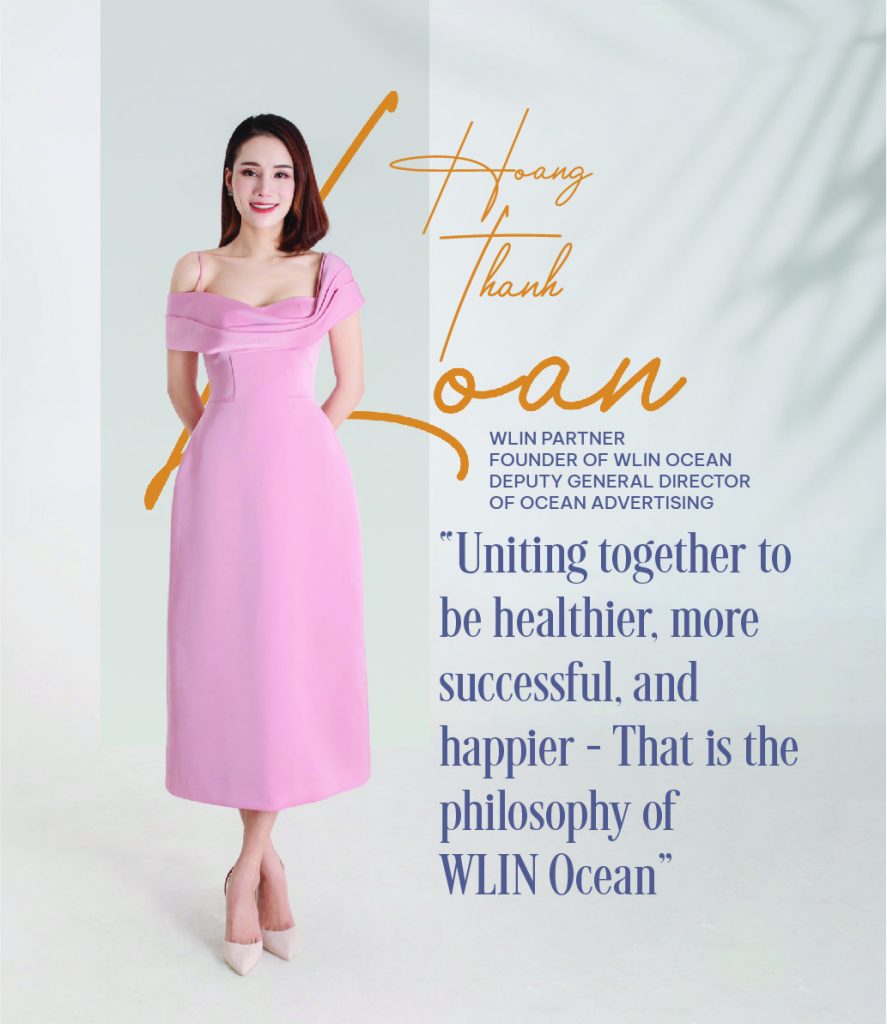 On that principle, Hoang Thanh Loan's WLIN Ocean Club was founded. With the philosophy of "Uniting together to be healthier, more successful, and happier," Founder Hoang Thanh Loan hopes to make WLIN Ocean a widely known and trustworthy foundation accompanying women.
"WLIN Ocean will assist women in constantly enhancing themselves, strengthening their leadership skills, effectively establishing relationships, expanding their enterprises, and taking care of their families." – Founder of WLIN Ocean, Entrepreneur Hoang Thanh Loan shared.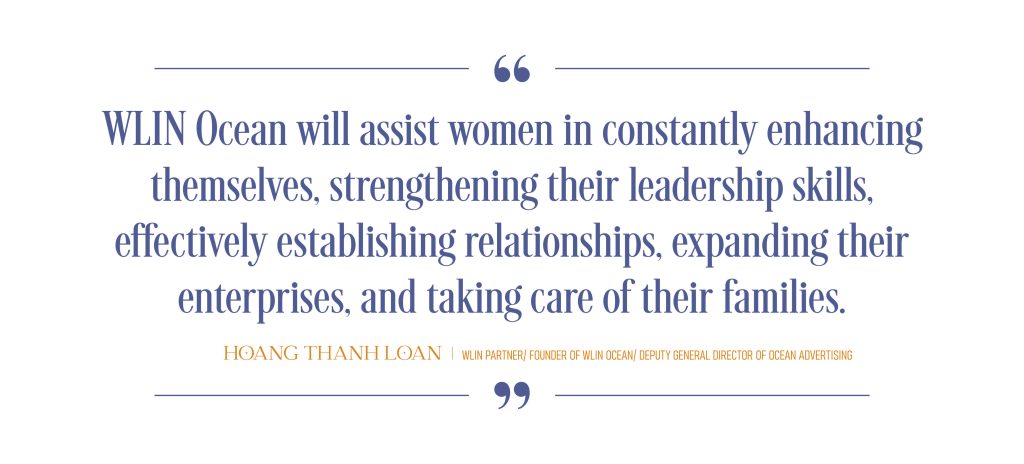 Believing that, with burning enthusiasm, Hoang Thanh Loan will develop WLIN Ocean into a club that is strong in both depth and scale. As a result, WLIN Ocean will provide a gathering place for outstanding female leaders, assist one another in their steady advancement, and contribute to promoting the positive values of the WLIN Global Network.