Entrepreneur Pham Ngoc Tram, the brilliant and strategic Chairwoman of Smart Loyalty, was recently named one of the 2023 Top 50 Asia – Pacific Women Leaders by WLIN Global Network.
Established in Vietnam for 10 years since 2013, WLIN Global operated with the purpose of uniting business women from around the world to learn, explore collaboration possibilities, develop enterprises, and expand domestic and international relations. WLIN Global has flourished rapidly over the last decade, extending throughout Vietnam and reaching out to the rest of the world. The network has successfully organized awarding events and prestigious, monumental, and professional forums.
Top 50 Asia Pacific Women Leaders 2023, the largest annual award with the Women Leader Forum 2023 for Vietnamese and international Business Women, will be held at Park Hyatt Saigon – Ho Chi Minh City on April 27th, 2023. The program will be organized by WLIN Global Holdings in partnership with the Women Leader International Network – WLIN Global, and exclusively produced by WMedia Agency . The award aims to honor significant members of WLIN Global for their outstanding performance throughout both economic and community development efforts.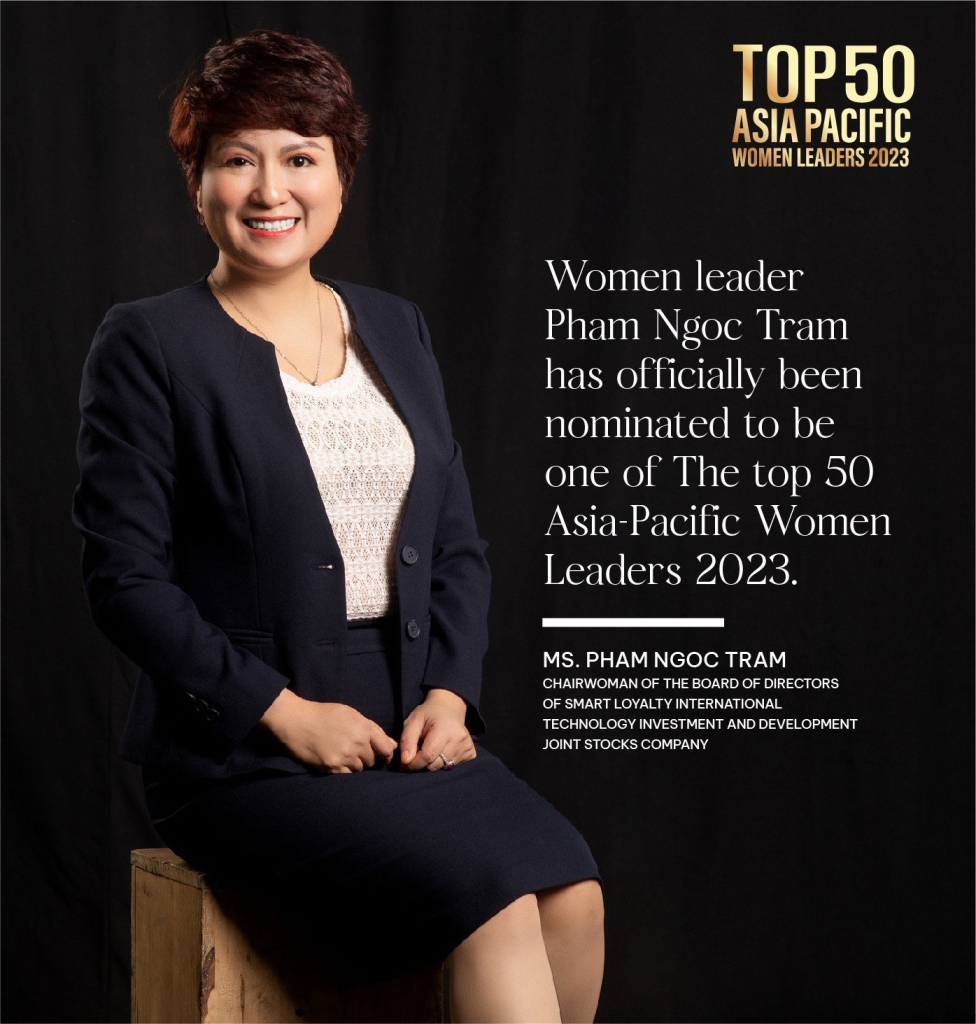 The finding and honoring of the 2023 Top 50 Asia-Pacific Women Leaders have officially launched since mid-February. Up to this point, the Advisory Council has constantly received information about prominent names representing talented female leaders who have dedicated themselves to community creation and growth. Pham Ngoc Tram, has officially become one of the prominent names for the award as a result of the evaluation process.
Pham Ngoc Tram is presently the Chairwoman of the Board of Directors of Smart Loyalty, which specializes in providing comprehensive loyalty solutions to the market, involving concept design, loyalty campaigns, and software systems for businesses to implement their loyalty strategy. Smart Loyalty developed the same-name system based on its expertise and practical experience, executing loyalty strategies with built-in scenarios for businesses. Smart Loyalty is Vietnam's first Loyalty Academy of America-certified expert. Therefore, Smart Loyalty is currently well-trusted by major companies such as Vietravel, Prudential, VietJet Air, HDBank, SHB, Seabank, MB Bank, and Mirae Asset,…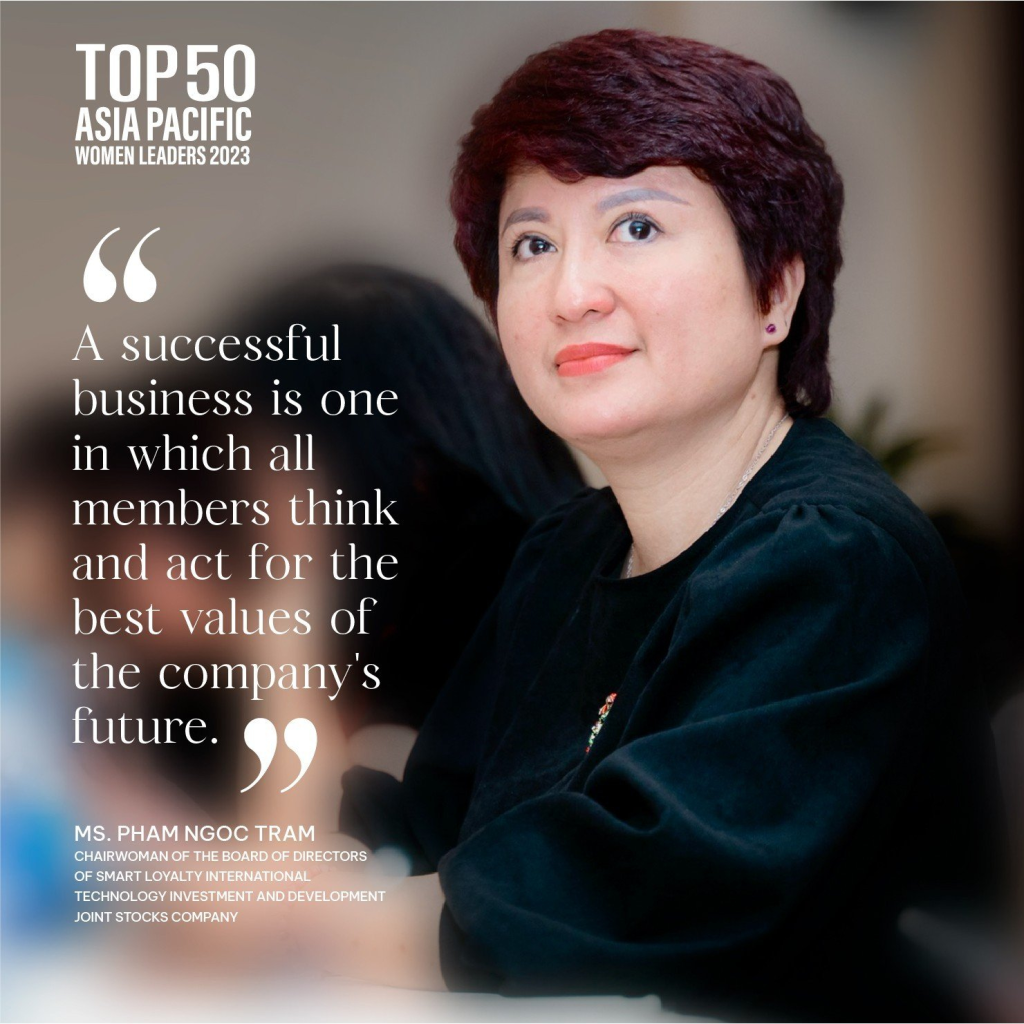 In order to accomplish profitable results and a distinguished brand in the market, Female Leader Pham Ngoc Tram has advocated for the development of a strong internal culture. All of the accomplishments, she believes, are due to the team's optimistic mindset. 'A successful business is one in which all members think and act for the best values of the company's future.' – She believes. The essentials in attitude are constantly being positive, unifying, assisting each other, and knowing yourself as a factor in unity. As a result, she and the management team are consistently working to create a workplace culture built on unity, positivism, curiosity, and devotion.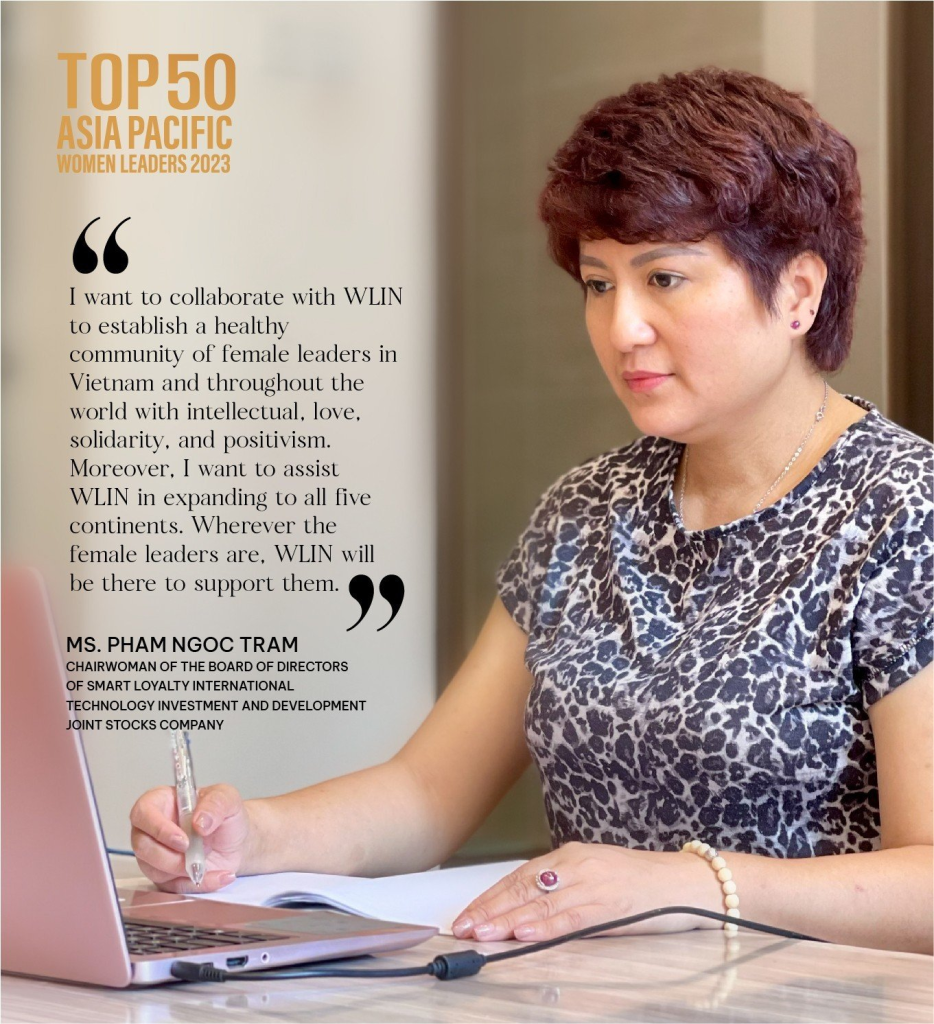 Ngoc Tram embraces not only the development of her enterprises but also the desire to spread her excellent values to the business community, particularly the WLIN. 'I want to collaborate with WLIN to establish a healthy community of female leaders in Vietnam and throughout the world with intellectual, love, solidarity, and positivism. Moreover, I want to assist WLIN in expanding to all five continents. Wherever the female leaders are, WLIN will be there to support them.'- Chairwoman of Smart Loyalty emphasized.
With all of her accomplishments in her career and the values she brings to family and society, the Advisory Board of the Top 50 Asia-Pacific Women Leaders Award 2023 decided to nominate Pham Ngoc Tram as one of the prominent faces, wholeheartedly entitled of being honored at the program's Gala night.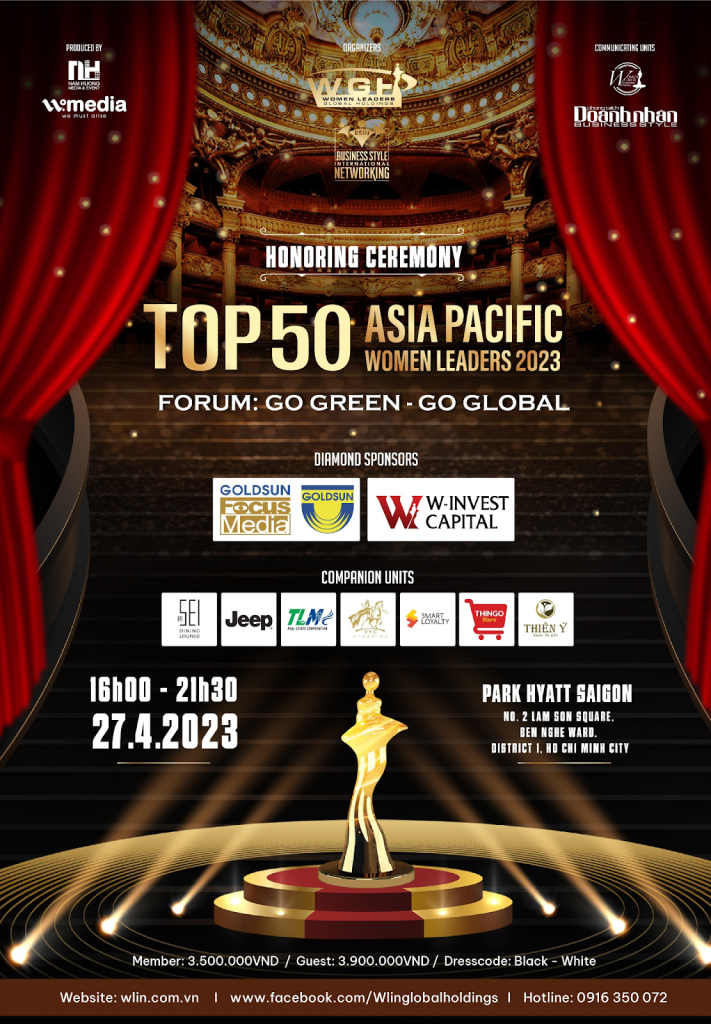 Together with the Gala dinner, the Women Leaders Forum 2023, with the theme of Go Green – Go Global, opened this year to invite international and Vietnamese leaders and entrepreneurs to address the green economy and social responsibility of enterprises especially in the environmental issues. Within the framework of the Awards, the Organizing Committee of the event also awards Asia Pacific's The Best Brands 2023 to honor excellent Vietnamese and international brands and enterprises.
The award also assisted in establishing a community of excellent women leaders, offering an environment for Vietnamese and foreign business leaders to connect and enhance global economic cooperation. Not only that but the Top 50 Asia-Pacific Women Leaders 2023 is an opportunity to support female leaders in effectively developing personal brands in order to allow themselves to stand out more and more in their professional careers and community activities.
_______
TOP 50 ASIA-PACIFIC WOMEN LEADERS 2023
Organizers: WLIN Global & WLIN Global Holdings
Produced by: WMedia Agency
Contact us:
– Hotline: 0916 350 072
​- Facebook: WLIN GLOBAL HOLDINGS
– Website: www.wlin.com.vn
– Email: nh.globalteam@namhuongcorp.com.vn