This highly anticipated album debuts following the remarkable triumph of his 7-track EP 'Barnabas in 2021. This EP achieved historic milestones across major global streaming platforms. This accomplishment further solidified his prominent role as a trailblazer within the African music industry.
In a kaleidoscope of vibrant rhythms, soul-stirring melodies, and culturally rich narratives, The Maverick Album" takes listeners on an enchanting journey through the heart of Afro-inspired music. With 20 tracks that pay homage to the diverse traditions and histories of the African culture and unique music art, this album is a testament to the enduring power of music as a universal language. In this review, we delve into a selection of tracks that showcase the album's brilliance, creativity, and emotional depth.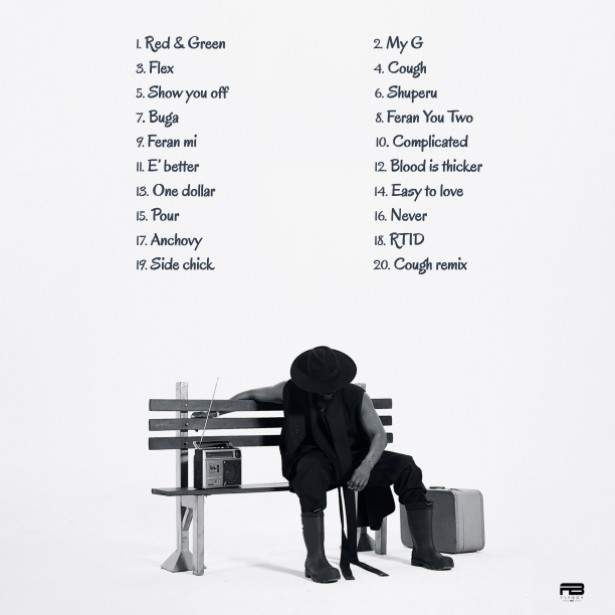 Track 1: "Red and Green"
"Red and Green," the introductory track to Kizz Daniel's "Maverick" album, serves as a heartfelt and introspective journey into the artist's personal experiences of loss, empathy, and unwavering resilience. With its emotionally charged lyrics, captivating melody, and raw vulnerability, the song lays the foundation for an album that delves deep into the human condition. This track sets the tone for the entire album, inviting us to explore the echoes of the past through contemporary musical expressions.
Track 2: "My G"
In the vibrant world of music, there are those rare compositions that manage to capture the essence of life's rhythm and weave it into a captivating melody. 'MY G,' the latest musical gem to grace our ears from the Maverick Album, is undeniably one such creation. With its infectious beats, soulful lyrics, and masterful production, My G' transcends the boundaries of genre and takes us on a sonic journey that leaves an indelible mark. It will surely reign as a club banger and mediate between fun lovers when relaxing.
Tracks 5, 9, and 14: "Show You Off", "Feranmi", "Easy to Love"
In the realm of musical collaborations, few tracks manage to captivate and enthral listeners the way 'Show You Off' does on Kizz Daniel's album "Maverick." This standout track not only highlights Kizz Daniel's signature style but also introduces the Flyboy's newest signee, Pryme, who brings his own unique marvel and artistry mastery to the table. The fusion of these two talents creates a mesmerising musical journey that resonates long after the final note.
"Feranmi', by Kizz Daniel and Johnny Drille, comes together to create a breath-taking piece of ethereal harmony. The track opens with a delicate acoustic guitar riff, instantly drawing the listener in. Kizz Daniel's velvety vocals blend seamlessly with Johnny Drille's signature emotive style, resulting in a heartwarming and soul-stirring experience.
"Easy to Love" is a soulful track, with the collaboration between Kizz Daniel and Chike taking us on a different journey and infusing the album with a soulful serenade that resonates deeply. The track kicks off with a mesmerising piano melody, setting the stage for Kizz Daniel and Chike to deliver a soul-stirring performance. Their voices intertwine effortlessly, creating a rich tapestry of sound that captivates the audience's emotions at a glance.
Track 8: "Feran You Two"
Kizz Daniel delves even deeper into his role as a father. He reflects on shared experiences, capturing the essence of milestones, laughter, and the boundless joy that comes with watching his children grow. The lyrics read like a journal of precious memories, offering a glimpse into the intimate and personal moments that shape a parent's perspective.
Track 10: "Complicated"
Kizz Daniel's "Complicated," featuring Jahmiel, Nomcebo Zikode, and Not3s, is a masterful musical tapestry that intricately weaves together the complexities of love, relationships, and the myriad emotions that accompany them. The song serves as a powerful exploration of the human experience, brought to life through smooth delivery, poignant lyrics, and a production that resonates with the heart of listeners.
Track 12: "Blood is Thicker'
Kizz Daniel's song "Blood Is Thicker" is an evocative testament to his remarkable musical journey, capturing the essence of his evolution from a local champion to a true global sensation. With its enchanting melodies, powerful lyrics, and masterful production, the track serves as a sonic narrative of Kizz Daniel's rise to prominence and his unwavering commitment to his craft.
Track 13: "One Dollar"
Kizz Daniel's collaboration with Blaqbonez, "One Dollar," offers a striking perspective on the human experience—the struggle to thrive and enjoy life amidst financial challenges and the looming spectre of debt.
Track 16: "Never"
Celebrating the dynamic influence of Afrobeats on the global stage, this track is a sonic explosion of infectious energy. Pulsating rhythms, pulsing basslines, and exuberant synths intertwine seamlessly, inspiring dance floor revelry.
Track 19: "Side Chick"
Kizz Daniel's "Side Chick," a standout track from the Maverick album, is a captivating collaboration that brings together the talents of Kizz Daniel, DJ Big N, Yemi Alade, and Young John. With its catchy hooks, pulsating beats, and dynamic vocals, "Side Chick" serves as an irresistible showcase of Afrobeat prowess, making it a surefire hit for both the airwaves and the dance floor.
Track 20: "Cough Remix"
Right from the first beat, "Cough (Remix)" establishes its pulsating rhythm, instantly capturing the essence of a lively and energetic dance club. The collaboration between Kizz Daniel and Becky G adds an exciting layer of cross-cultural dynamism, merging Afrobeats with Becky G's signature Latin flair.
In 2016, Kizz Daniel burst onto the scene with his debut album "New Era", showcasing his distinctive voice, captivating melodies, and an innate ability to craft infectious rhythms. This marked the beginning of his ascent in the Afrobeat genre, gaining him recognition for his innovative sound and unique approach to storytelling.
Kizz Daniel's musical journey, spanning from his debut album "New Era" in 2016 to his recent release of the "Maverick" album in 2023, is a testament to his unwavering commitment to his craft and his evolution as an Afrobeat music icon on the global stage.
Fast forward to 2023, and Kizz Daniel's consistency is evident in the release of the "Maverick" album. This latest offering solidifies his position as a true trailblazer in the Afrobeat landscape. With a blend of diverse influences, rich instrumentals, and collaborations that span across genres, "Maverick" demonstrates Kizz Daniel's ability to adapt while staying true to his musical identity.
The album not only showcases his growth as an artist but also highlights his deep understanding of the global music scene. Kizz Daniel's journey from his debut to "Maverick" is a remarkable trajectory of artistic maturation and the embodiment of the saying that "good things take time."